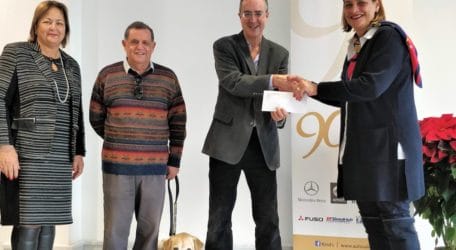 To close off their 90th anniversary celebrations, Kind's Auto Sales Ltd presented the last in a series of donations – this time to the Malta Guide Dogs Foundation.
In making the donation, Ms Karen Sammut, Director, said how much she and her fellow directors admired the work being done by the foundation to deliver guide dogs to visually impaired people in Malta and Gozo.
Malcolm J. Naudi, a board member of the foundation, who received the donation, thanked Kind's Auto Sales Ltd for this altruistic gesture, which would go a long way to supporting the foundation's work, providing guide dogs for free, apart from training and after care services at no cost to the visually impaired to promote independent living.
He was accompanied by a visually impaired person, Natalino Cristiano, and his guide dog Glen. Mr Cristiano's life was transformed since Glen came into his life seven years ago. He is now of assistance to his wife, running errands (instead of the other way around) and regularly uses public transport to go to Valletta.
For more information, visit www.maltaguidedogs.org.mt.