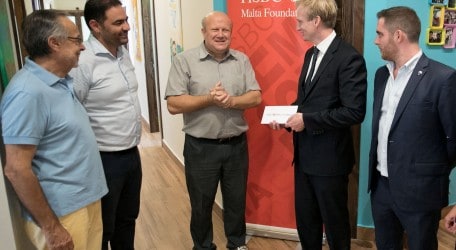 The wellbeing of five children currently living at St Joseph's Home in Sta. Venera has been enhanced following extensive refurbishment of their bedrooms and other facilities.
The works on the boys' flat, which included the changing of tile flooring, upgrading of electrical installations, repainting works, new bedroom furniture, and new doors, ensures that the tenants have comfortable winters and bright summers.
"Presently there are five boys living in the flat, with the possibility of increasing to six boys in case of emergency. The renewal work was a big undertaking for us both in terms of investment and the duration of the project.  HSBC Malta Foundation came forward to shoulder nearly 50% of the investment needed," said St Joseph's Home director Rev Fr Gigi Mallia MSSP.
The history of St Joseph's Home dates back to 1888, with the fathers of the Missionary of St Paul taking over the running of the Home in 1922. The Home went on to acquire particular social as well as architectural significance.
HSBC Malta CEO Andrew Beane said: "We are delighted to be supporting St Joseph's home with their tremendous work to improve the lives of young people."
Present on the occasion also was Sean Busuttil Cordina representing RE/MAX & Friends Foundation which has also contributed to the project.
Helping disadvantaged children is one of the three pillars of HSBC Malta Foundation's guiding mission. Most recently, the Foundation announced its support to the organisation of the 2017 World Conference of the International Foster Care Organisation (1-4th November) in Malta. Other ongoing programmes for children are aimed at youth empowerment, new learning opportunities, and leadership building.