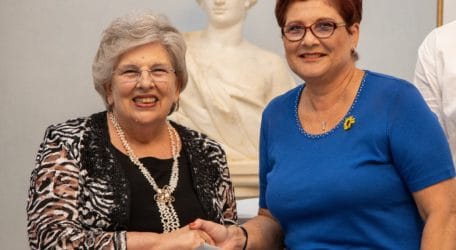 Pictured above: Mrs. Miriam Vella and Hospice Malta Chairperson Ms. Bernadette Bonnici Kind,
Hospice Malta recently held its 31st Annual General Meeting to discuss its yearly operations.
During the meeting, recently appointed Hospice Malta Chairperson Ms. Bernadette Bonnici Kind, acknowledged the contributions of former chairperson Ms Maria Gatt and applauded the Council of Administrators, staff members and all volunteers, whose team effort allows Hospice Malta to continue catering for increasing number of patients and families. She also thanked Mrs. Miriam Vella, the President's wife and Patron of Hospice, for hosting the Hospice Malta AGM at San Anton Palace.
Commenting about the St Michael Hospice project, a major priority for Hospice Malta; Ms Bonnici Kind explained that with the number of patients growing year on year, it had long been acknowledged that Hospice's needs will lead to the necessity of expansion of its current premises as well as its services. "The Hospice Malta team are working tirelessly to plan and execute the refurbishment of the property which was donated by the Archdiocese of Malta and which is destined to become the new and larger St Michael Hospice for the continued provision of palliative care."
The project is advancing with the financial support of several individuals, local corporations and banks, as well as funding from the government and programmes managed by the EU. The extent of the project does however necessitate raising of larger sums of money.
In his annual report, Mr. Kenneth Delia, CEO of Hospice Malta, spoke about the positive impact of the organisation, the increased accessibility of its services and the focus on service quality, including the latter's effectiveness and efficiency, for the benefit of those in need. Mr. Delia gave a summary of the operations and highlighted the growing number of patients that added up to 1281 patients in 2019, of which 741 were new referrals, and who benefitted from 9,659 home visits by the Hospice team.
Hospice Malta worked to improve the Day Therapy Unit which complements the home care services provided. The activities and events organised by Hospice within the DTU and beyond, were well received, and Mr Delia reported that on many occasions, the unit ran at full capacity. There are also plans to extend further the afternoon respite services, in particular once Hospice begins to operate from St Michael Hospice.
Investment in human resources, education and training were also a priority throughout 2019, and this will continue as the organisation will strengthen the team's professional development.
"Service quality remains one of the most important measures for Hospice. It is with great pleasure that I am able to report that all patients are today contacted within 24 hours of their referral, and a home visit by our professional team is carried out within 5 working days. ."
In addition, The Concept Stadium, a local boutique marketing and consultancy company, was also engaged to support Hospice with its marketing and PR efforts, and to create engaging brand awareness and brand building marketing campaigns and initiatives, in particular on digital platforms.
Mr. Vladimiro Comodini, Hon. Treasurer, gave an overview of the audited financial statements for the year 2019, during which an increased surplus was noted due to increased donations. This was also a result of marketing campaigns run by Hospice throughout 2019, raising awareness about Hospice, palliative care and its services. Mr Comodini reiterated the importance of financial support, in particular from private entities in order to secure the sustainability of Hospice Malta for future patients.
In closing, Ms Bonnici Kind asked that all present become ambassadors for the Hospice mission, and promote their cause amongst family and friends, emphasising that no donation is ever too small. She also presented Dr Vincent Zammit with a token of appreciation for his volunteering services and dedication over the past 15 years, during which time he also served as Chairperson to Hospice Malta.