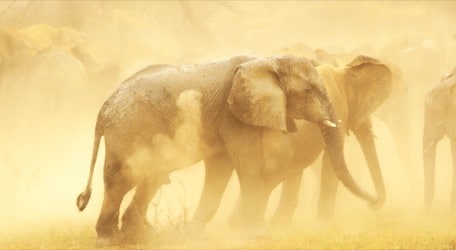 Emirates has selected three not-for-profit organisations working in wildlife protection and environmental conservation in Africa as the recipients of award funding under its 'A Greener Tomorrow' initiative.
The winners, Southern African Wildlife College Trust, Southern African Foundation for the Conservation of Coastal Birds, and African Parks, were selected from a global pool of applicants working towards environmental sustainability and conservation in their respective regions.
Launched in 2013, 'A Greener Tomorrow' is an outcome of Emirates' commitment to sustainability and environmental conservation globally. The programme provides a share of up to US$ 150,000 in funding to not-for-profit organisations across the world working innovatively to safeguard and improve their local environments. The funds for the initiative are raised through internal recycling programmes within the Emirates Group that process materials ranging from paper from Emirates' offices to seat components on board aircraft. Following the overwhelming response received for the initiative in its first year, Emirates decided to continue the programme for a second time in 2016.
Applications for funding under 'A Greener Tomorrow' were initially assessed by a committee comprised of senior executives from the Emirates Group and members of the Environment team. Shortlisted applicants were then invited to present their project proposal in detail to the committee for further evaluation in order to select the winners.
"Sustainability and concern for the environment are part of our core values at Emirates and we constantly strive towards reducing the impact of our operations on the natural environment," said Will Lӧfberg, Emirates Vice President of International, Government and Environment Affairs.
He added: "Through 'A Greener Tomorrow' we are able to support organisations that work at the grassroots level in engaging with communities to conserve the environment. We were delighted with the positive impact that the winners of the first 'A Greener Tomorrow' initiative had on their communities and we look forward to supporting this year's winners."
The three organisations that have been selected for funding under 'A Greener Tomorrow' are:
Southern African Wildlife College Trust – SAWCT 

SAWCT was established in 1996 by the World Wide Fund for Nature, South Africa (WWF South Africa) in close cooperation with national and provincial government departments, and the Southern African Development Community (SADC). Since its start in 1996 the College has trained close to 15,000 students from 46 countries in natural resource management and conservation practices. Through funding from Emirates' 'A Greener Tomorrow' initiative SAWCT – a Trust set up by WWF SA in support of the College –  will provide three scholarships and two bursaries for their certificate programmes in nature conservation to students who already work in the conservation area but who do not have formal educational to advance their careers. These qualifications will help students move into roles such as wildlife area managers, park rangers and senior field rangers, working to protect wildlife parks within southern Africa.
Southern African Foundation for the Conservation of Coastal Birds – SANCCOB 

SANCCOB is a marine non-profit organisation in South Africa which protects, treats and conserves seabirds and endangered species such as the African penguin. It is recognised internationally as a leader in the field of seabird rehabilitation with veterinary staff working work around the clock, 365 days a year, to provide the best care to the ill, injured, abandoned and oiled African penguins and other seabirds that are admitted to its two centres annually. Funding from 'A Greener Tomorrow' will go towards helping support SANCCOB's rehabilitation, protection, research and chick-rearing programmes.
African Parks 

African Parks is a not-for-profit organisation established in 2000 that takes on the direct, long-term management of national parks and protected areas in partnership with governments in order to save wildlife, restore landscapes and ensure sustainable livelihoods for local communities. African Parks will use the funding from 'A Greener Tomorrow' to support educational development within the Barotse community who live within Liuwa Plain National Park in Zambia. African Parks will provide educational tablet computers and employ additional teaching assistants within the schools in the park. Improved access to education is expected to decrease the pressure on wildlife and natural resources of the park.
Video can be viewed here:
Emirates operates daily scheduled flights between Malta and Dubai on a Boeing 777-300 aircraft. Emirates flies twice weekly to Malta, on Mondays and Wednesdays, via Larnaca in Cyprus, and on Sundays, Tuesdays, Thursdays, Fridays and Saturdays the airline operates the Dubai – Malta route on a circular routing via Tunis in Tunisia. The return flight flies direct from Malta to Dubai.