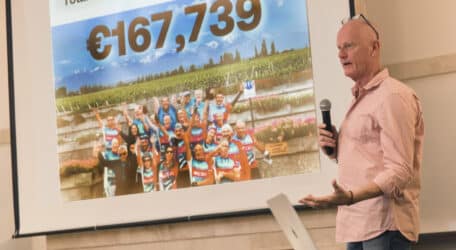 Nescafé LifeCycle Challenge 2022 participants were honoured at an awards presentation held at Hilltop Gardens, Naxxar on Tuesday 17 January. The event recognised the heroic efforts of the participants in this year's challenge which took them across South America from Buenos Aires in Argentina to the capital city of Chile Santiago, a total of 1,700km, through which they raised the impressive sum of €167,739.
All the 25 participants, of which 18 were cyclists while the rest supported the team as helpers, were awarded the 2022 certificate. These were: Genevieve Jenny Creed Geraghty, Carolina Merino Wells, Enol Arguelles, Pierre Vella, Robert Vassallo Agius, Michael Agius Muscat, Joseph Aquilina, William Saliba, David Pizzuto, Ian Chaytor, Stephen Cassar, Lydia Borg, Colin Darmanin, Alan Curry, Lee Jonathan Duric, Shirley Cefai, Christina Cefai, Julian Cefai, Leslie Spiteri, Joseph Falzon, Theresa Spiteri, Paul Calleja, David Armstrong and Samantha Rees.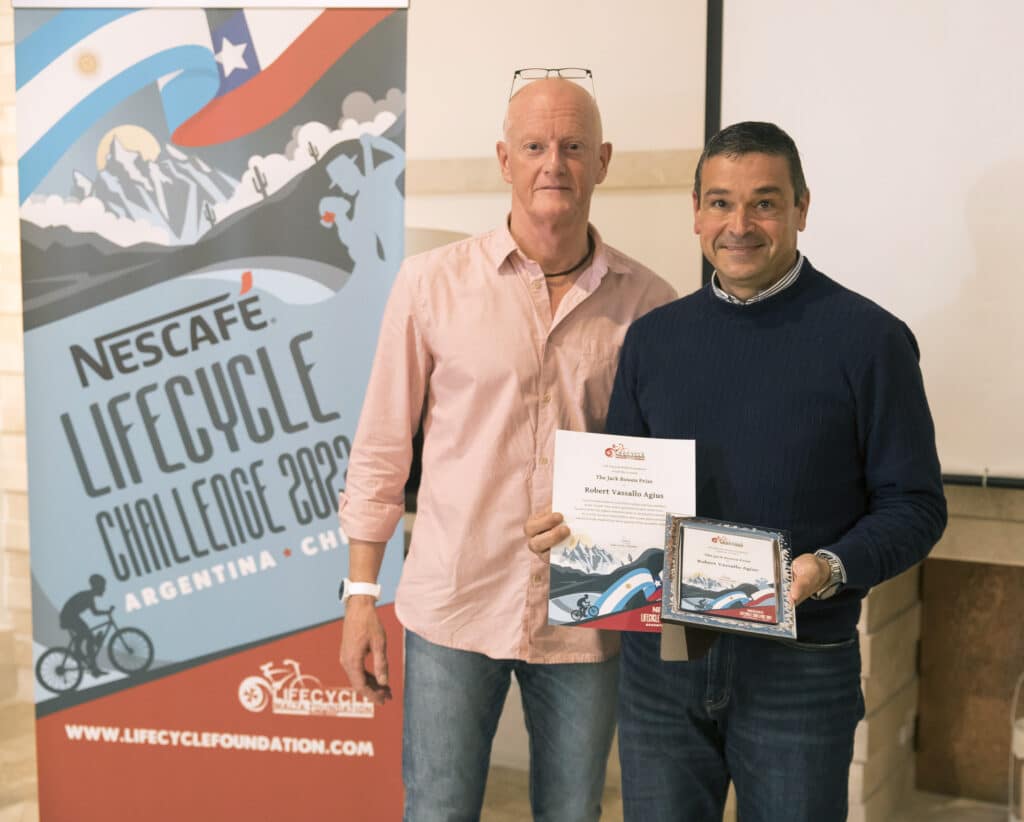 The Jack Bowen award, given to the cyclist who best embodied the spirit of the challenge as well as showing exceptional team spirit and performance, was awarded to cyclist Robert Vassallo Agius. The evening was also an occasion to celebrate and recognise all the sponsors of the Challenge with a commemorative certificate.
Professor Emanuel Farrugia, Head of the Department of Nephrology at the Renal Unit of Mater Dei Hospital, was present for the occasion and made a few remarks on the Renal Unit and its patients, who year after year benefit amongst others from the funds that LifeCyclists raise through the annual LifeCycle challenge.
LifeCycle (Malta) Foundation Founder Alan Curry said: "This event is the highlight of our calendar as we celebrate and commemorate yet another successful challenge, done for a very just cause. As our efforts continue year after year, we remain committed to supporting renal patients through not only the maintenance of software matching programmes at the Renal Unit and the Twilight Shift Van that transports renal patients from home to hospital and vice-versa amongst other things, but also working to further awareness on kidney disease."
Mr Curry concluded: "I could not be any prouder of all members of the team, from the committee, to the cyclists and the support team and also all of our sponsors. None of us would have made it without this incredible team effort."
Donations to the LifeCycle (Malta) Foundation can continue to be made via Revolut on 9932 9101, by PayPal on this link: https://buff.ly/35g17CC and via SMS: 5061 7370 for €2.33; 5061 8920 for €6.99; 5061 9229 for €11.65; or via a call to 5160 2020 for €10; 5170 2005 for €15; and 5180 2006 for €25.
Donations can be made also via bank transfers via Swift code VALLMTMT, IBAN MT 18 VALL 22013000000014814521017, with the Bank name being Bank of Valletta, and account number 14814521017.
The destination of the 2023 LifeCycle Challenge along with its dates, will be announced in the coming weeks. For more information, one can visit https://lifecyclefoundation.com or https://www.facebook.com/LifeCycleChallenge
---