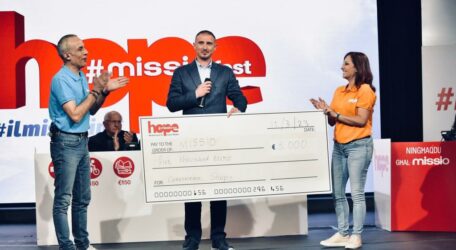 The Convenience Shop Group, Malta's leading food retail chain, is proudly announcing its recent donation of €5,000 to Missio, which is dedicated to helping people and communities in need across 160 countries with multiple ongoing projects in 1,100 dioceses spread across five continents.
As part of its ongoing commitment to corporate social responsibility, The Convenience Shop Group strives to contribute to organizations that make a positive impact on society. The company is proud to have once again participated in the fundraising event for Missio and is honoured to support the organization's mission to help those in need.
"We are committed to making a positive impact on the local communities and beyond, and supporting organizations like Missio is an important part of that effort," said Andrew Attard, COO of The Convenience Shop Group. "Missio makes a tangible difference in the lives of people and communities in need by providing aid that enables viable development. Their work is truly worldwide and focused on areas where it is needed the most, such as remote villages and underdeveloped countries."
The Convenience Shop Group has made it a priority to support NGOs and charities that help people and families in need. With CSR at the heart of its business, the company considers it a duty to give back to the community and make a difference in the global community. This contribution is just one of the many steps that the Convenience Shop Group is taking to support charitable causes
"We are proud to be part of such an important cause, and we look forward to collaborating with Missio on more projects in the future," added Attard.