The recently established Association to Assist Visually Impaired Persons has teamed-up with the Foundation of IT Accessibility (FITA) to create the Assistive Devices for the Visually Impaired Centre (ADVICE). Manned by FITA experts and trained volunteers, the Centre will be the convergence point for visually impaired people. This was announced during a press conference held yesterday at the FITA premises.
The ADVICE president, Mr. Joseph Cauchi introduced the association by outlining its aims and objectives in the context of the current situation in Malta and the need for action. "Ultimately we need to have a National Institute for the Blind and partially sighted to provide comprehensive, effective and efficient services that a modern society can afford and should be providing. There is both a need and an opportunity to create an Institute on a template of these well-established national organisations in other countries."
Ophthalmic Surgeon Mr. Francis Carbonaro is also throwing his weight behind this excellent initiative. "Affecting more than sight, visual impairment is a multi-faceted disability; reducing an individual's autonomy to a state of dependency; it is exactly this kind of initiative which will support these people in a way that allows them to continue to be self-sufficient and independent."
Visual impairment, while directly affecting one-in-thirty members of the community is an affliction that ripples out to almost everybody—family, relatives and friends. Presently a partially sighted person will have to rummage through catalogues or search the Internet to find assistive devices, lacking the ability to handle the devices themselves, and the option to try them out before buying. These assistive devices are costly, and not easy to use without proper guidance. The Centre will display a range of assistive items, with FITA experts and volunteers on-the-ground providing demonstrations and advice to clients, who will then be able to purchase the devices.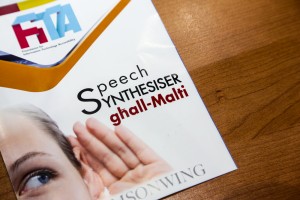 By partnering with existing agencies already providing care for the visually impaired community, the eventual goal of the Association is to evolve in conjunction with the existing relevant entities into an umbrella organisation – the Malta National Institute of the Blind and Visually Impaired Persons. Malta has to only look at the success of other countries with established national organisations. Providing assistance, access to information, and advocacy will give the visually impaired added functionality, and the ability to live independent and productive lives. The Centre is the first step in achieving this goal. The estimated fund to initiate and run the Centre is approximately €50,000. Her Excellency Marie-Louise Coleiro Preca, endorses the goals of the Association.
Contributions to ADVICE may be made by calling the following telephone numbers;
5160 2050 – €5
5170 2051 – €10
5180 2052 – €15
5190 2053 – €25
Or by SMS:
5061 9287 – €11.65
Or by making a transfer to the following bank account:
Bank of Valletta, Manwel Dimech Street, Balluta,  Sliema  SLM 1051
Account Name:  A.D.V.I.C.E           Account No: 40023243273
Bank's BIC (Swift) VALLMTMT      IBAN: MT04VALL22013000000040023243273
Alternatively cheques made out to ADVICE can be sent to:
ADVICE
70, Triq Ghaxqet il-Ghajn,
Marsaskala MSK 1405