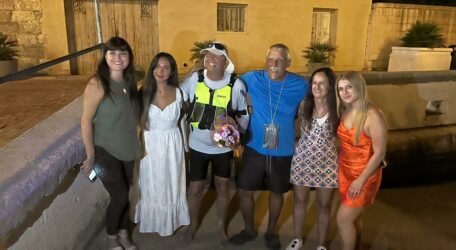 The Kayak for Charity challenge came to an end at 10:00pm Tuesday evening in Birżebbuġa, following an unassisted, 17-hour-long kayak around Malta. Whilst Albert Gambina completed the route, Dorian J Vassallo was forced to cut the challenge short by a few hours due to severe back pain that unfortunately stopped him from kayaking any further.
The pair paddled an OC1 canoe around Malta and were the first to ever attempt such a challenge.
The energetic pair are behind Kayak for Charity, an initiative that was set up to raise funds for the Inspire Foundation Malta. They have so far raised €3,865 and urge the public to continue to donate until midnight on 15th September. Donations can take place online through the web page https://inspire.org.mt/kayakforcharity/
The challenges aboard an OC1 as opposed to a traditional kayak are many, the most obvious is that the stroke and seating are quite different from that of a kayak, causing severe back pain. There is also very limited storage space on the vessel so any food and drink consumed on their journey was rationed throughout.
The distance of this paddle journey was 42 Nautical miles, or approximately 75 km.
Catching their breath and happy to be back on land, Albert and Dorian both talked about the privilege they felt to be able to support an NGO like the Inspire Foundation, describing the help it gives back to the community as "second to none". They encouraged the public to continue to donate.
Antonello Gauci, CEO of Inspire, thanked both kayakers for their outstanding commitment, coming up with yet another extraordinary challenge in support of the Inspire Foundation. "The sheer energy and altruism of these two great kayakers is truly commendable. Their actions will help Inspire to continue with its mission to support persons with physical or developmental disabilities, as well as those with behaviours of concern to achieve their potential and ultimately improve their quality of life and full participation in society. We are extremely grateful for special people like Albert and Dorian for their incredible generosity and support."
For more information, visit https://inspire.org.mt/kayakforcharity/