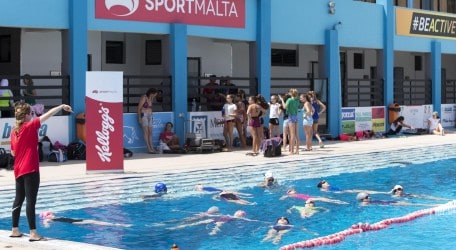 A good number of children and young adults who are aged between 7 and 16 years and are good swimmers have joined synchronised swimming classes offered by SportMalta through #OnTheMove programme. Sponsored by Kellogg's, the world's leading producer of breakfast cereal, these sessions are held at Tal-Qroqq National Pool Complex as a recreational class.
The beginners' classes focus on teaching the swimmers basic body positions in the water. They are also taught how to count music, point their toes and extend their body in the water. Synchronised swimming is a sport for both girls and boys.
"Prior to starting synchronised swimming, ideally children should have swimming experience and feel confident in water," said one of their coaches, Hannah Preca Trapani. "Synchro is a mixture of swimming, gymnastics and dance, therefore, a basic knowledge of the three is the best combination before starting synchro. However, it is not mandatory to be competent in other sports – every child is unique and some may posses a natural talent for the sport."
In addition, SportMalta offers classes through its Synchro Academy programme for recreational groups as well as for competitive teams, starting from the age of seven. Advanced athletes learn how to control their movements in water both with their face above water and upside down, under the water. They also work on more advanced routine skills which include stationary lifts and throws without touching the bottom of the pool.
Participants are currently gearing up for a summer packed with skills practice and routine choreography, preparing them for their annual end of summer show in which the routines will be performed. Performances by the Synchro Academy are also held throughout the year during water polo tournaments and special events held across the island.
All athletes are given the opportunity to compete regularly in competitions in Malta, while the competitive teams – that are part of the Synchro Academy – also travel to international competitions of various levels.
Kellogg's has been extending its support to #OnTheMove (formerly known as Skolasport) since 1999, and actively promotes a variety of educational sports disciplines within Sport Malta's winter programme. For more than a century Kellogg's has been enriching and delighting the world through foods and brands that matter.
Further information about Synchronised Swimming within #OnTheMove programme, can be obtained from SportMalta Head Office on tel. 2203 6000, via e-mail: info@sportmalta.org.mt or visit the website:  https://www.sportmalta.org.mt/programmes/onthemove-skolasport