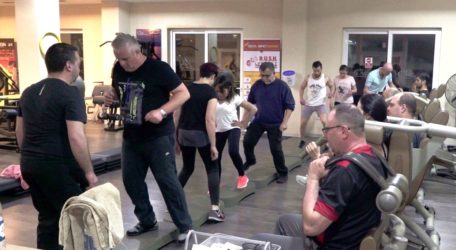 Committed to continue supporting renal patients and persons with kidney transplants, LifeCycle (Malta) Foundation launched free health and fitness sessions for patients undergoing Renal Replacement therapy (dialysis) at Mater Dei's Renal Unit. The free sessions are extended to medical and nursing staff at the Renal Unit.
Fifteen participants have taken up the offer and enjoyed their first health and fitness session at ChicPhysique Studio, at Hilltop Gardens under the expert direction of LifeCycle Founder and Personal Fitness Consultant Alan Curry.
"In collaboration with our title sponsor Nescafé 3in1, LifeCycle Foundation is fulfilling another new initiative this year. During these new weekly group training sessions, we are starting slowly and shall work on moderate physical activities. The exercises will serve to boost energy of the participants, improve their muscle strength, and help them feel better, both physically and psychologically," explained Mr Curry.
"Renal patients are welcome to try out these sessions for their health benefit. In addition, we are extending the fitness sessions to members of the medical and nursing team at the Renal Unit so that patients will feel at ease knowing a member of the nursing team is present," added Mr Curry.
Information about the Fitness sessions can be obtained from the Charge Nurse at the Renal Unit, Mater Dei Hospital, Mr Paul Calleja.
The annual LifeCycle Challenge, this year title sponsored by Nescafé 3in1, will take the cyclists on route from Vietnam, to Laos, Cambodia and cycle back to Vietnam to end at the Temples of Angkor Wat, a World Heritage Site.
Donations to Nescafé 3in1 LifeCycle Challenge 2019 are open and can be sent via sms: 5061 7370 = €2.33; 5061 8920 = €6.99; 5061 9229 = €11.65; or via a call to 5160 2020 = €10, 5170 2005 = €15; and 5180 2006 = €25. Bank details are Swift code VALLMTMT, IBAN number MT 18 VALL 22013000000014814521017, Bank name Bank of Valletta, Account number 14814521017.
For further updates and to donate towards LifeCycle Challenge 2019 on www.lifecyclefoundation.com or on Fb: https://www.facebook.com/LifeCycleChallenge/