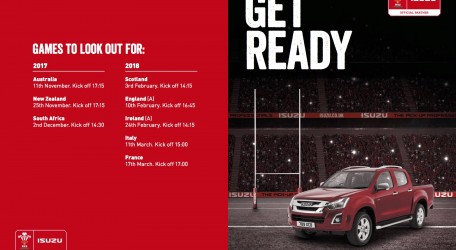 Isuzu UK have signed a historic shirt partnership deal with the Welsh Rugby Union (WRU). As a result, the men's and women's national rugby teams of Wales will wear the ISUZU logo on their home jersey starting from the 2017/2018 season until 2021 (see official announcement on IUK website).
The ISUZU shirt will have its first international match on 11th Nov 2017 – Wales versus Australia. The shirt will also be worn against New Zealand, South Africa, Scotland, England, Ireland, Italy, and France. *For the detailed
schedule, please refer to the attached brochure prepared by IUK. The brochure is for your internal use only.
The shirt is available for sale at the WRU store. You can also see the shirt in video clips published at WRU TV. Forthcoming activities will be tracked by IUK under @Isuzu Rugby on FB, Twitter, and Instagram: #getrugged.
IUK has produced several brand videos for the WRU partnership and agreed to share them with our European distributors. IMIE will send these videos to you by courier. Please note the usage conditions:
▪  Voice-over (well-known Welsh Rugby presenter & ex-player, Eddie Butler) has 12 months usage rights and is for online use only.
▪  Therefore, the 30 second version without the voice has the most flexible usage.
▪  In case of any uncertainty, please contact IMIE.
This page may only be distributed internally. IMIE does not hold the copyright to the picture shown.