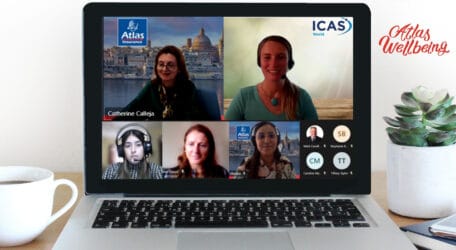 Atlas Insurance has wrapped up another successful Mental Health Awareness Month during October, which was characterized by a series of initiatives and events aimed to raise awareness on the importance of good mental health.
This was the third year running that, for a whole month, the insurance firm engaged with all its stakeholders, including employees and clients, on the subject of mental health – which is at the heart of Atlas's wellbeing programme. Throughout this period, a 30-day Mental Health Guide and tips, developed by ICAS, were shared by Atlas on its social media channels and amongst employees.
"Change & Transitional Leadership" was the theme of a webinar organised by Atlas for its clients and members of The Malta Chamber of Commerce, Enterprise and Industry. Atlas is spearheading the cross-sectoral Health and Wellness Committee within The Malta Chamber.
The webinar explored the change process and how managers can build their own resilience, and introduced the concept of GRIT and how this can be used to manage organisational transitions. GRIT, which stands for "Guts, Resilience, Initiative and Tenacity", is a positive mind-set which helps leaders cultivate a team environment wherein people feel secure, valued, and empowered. The webinar was highly interactive and was facilitated by Kim Mussmann, an ICAS Certified Results Coach, and introduced by Atlas Healthcare.
In addition, Atlas organised two engaging webinars, in collaboration with ICAS, for #TeamAtlas on mental health and wellbeing. "Coping with multiple demands" was the theme of a webinar held on 20 October for all Atlas staff. Another webinar was organised specifically for the firm's leaders, entitled "Managing teams through difficult times", which was held earlier in the month. Both webinars were interactive, with employees actively discussing the topic of mental health and sharing experiences and insights in a positive environment.
"This past month has been an intense one, as planned. Our objective is to continue to raise awareness and remove the stigma associated with mental health," said Catherine Calleja, Managing Director at Atlas Healthcare.
"By involving our internal and external stakeholders, we want to continue the discussion on this topic and ensure that wellbeing – both physical and mental – is top of our agenda. These initiatives give us all an opportunity to step back from day-to-day routine and reflect on this subject," she said.
As the ability to organise safe face-to-face encounters became more possible, Atlas employees had the opportunity to meet in small groups for "wellbeing lunches" held in the company's boardroom throughout October. These lunches were a great opportunity to reconnect and unwind with colleagues from different offices, after only being able to see each other virtually for a long period of time.
ICAS is a global 24/7 international Employee Assistance Programme (EAP), provided by Atlas Healthcare, which provides unlimited direct access to psychologists for employees and their families, as well as local face to face counselling, legal and financial helplines and support for HR and line managers.
Atlas Healthcare Insurance Agency Limited (C32603) is authorised under the Insurance Distribution Act to act as Enrolled Insurance Agents for Atlas Insurance PCC Limited. Both entities are regulated by the MFSA.