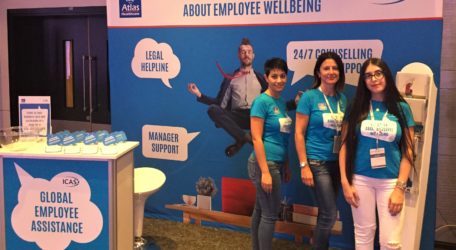 Pictured above: Annalise Borg, Claudine Gauci, Lara Calleja during the FHRD conference with Mindfulness coach Aksohbin Tracy (first from left)

Employee wellbeing took centre stage in the stand set up by Atlas Healthcare during the Foundation for Human Resources Development (FHRD) annual conference, held recently.
'Let's talk about wellbeing' was the theme of the stand, said Atlas Healthcare Manager, Claudine Gauci.
She added: "The FHRD annual conference is a great event to promote our benefits and this year we focused on the benefits of Global Employee Assistance Programmes (EAP) provided by AXA ICAS International. EAPs can be an important tool for the HR manager of any organisation, as they support corporate wellness programmes by enhancing the wellbeing of employees."
"The services provided by ICAS include an unlimited 24/7 personal support line with direct access to psychologists, local face-to-face counselling, local legal and financial helplines and support for HR and line managers. Most importantly, confidentiality is guaranteed," added Ms Gauci.
EAP programmes are known for a number of benefits, including reduction in absenteeism, staff turnover and healthcare costs. They help employees and their family members cope with both personal and work issues and increase productivity, engagement and return on investment for your business. All counselling is provided by masters' level clinicians.
During the month of October, Atlas Group employees are dressing down to promote mental health awareness and are also sporting mental health badges all month long to project the importance of mental health in all aspects of life. In addition, a talk for all employees on mindfulness was organized as part of the programme of activities.
Atlas Group recently held an introductory session on mindfulness for its employees, as part of a month-long initiative during October during which mental health awareness is being promoted as part of the Atlas Wellness Programme.
The topic was presented by Aksohbin Tracy, a qualified Mindfulness trainer. Mr Tracy has been practicing mindfulness techniques for 20 years and teaching for the past 15 years.
Mr Tracy explained that we often go through life in a reactive mode, and as we get busier, this is increasingly the case. "Mindfulness allows us to live in a more creatively responsive way to life and less out of our habitual reactions. This results in added perspective and an increased ability to choose how we live," he said.
"When going through a difficult period, be it stress or illness, we tend to close in on ourselves, and not see beyond the problem we are facing. Mindfulness, whilst not solving your problem, will help give a person perspective, and see the wider situation."
Mr Tracy explained that international research has proven that mindfulness is effective in clinical situations, such as depression, living with chronic pain, stress and anxiety. It is also effective in non-clinical situations such as the well-being of busy professionals and workplace enhancement.
He also led staff through a body scan exercise, to give a taster on how mindfulness works in practice. The session on mindfulness was well received by Atlas employees.
For further information on ICAS services for your company, visit atlas.com.mt/icas