Fuelled by the paced rhythm of music and a keen focus on the exercise at hand, adults attending the #OnTheMove Skolasport Aerobic Fitness classes not only increase fitness and boost their stamina, but also relieve stress from work and daily life routine. Organised by SportMalta and sponsored by Kellogg's, the #OnTheMove Skolasport Aerobic Fitness classes serve as an excellent physical outlet to vent tension and let off steam.
"Performing physical exercises is a health investment, helps prevent illness and keeps one aware of the importance of a healthy diet. Our weekly classes help participants to work out those extra calories and get into shape for summer," said Ruben Baldacchino, SportMalta Head Coach at Maria Regina College in Mosta. "Apart from being more fit, participants find the socialising aspect of such activities a reward in itself."
The 45 minute session kicks off with routine of warm-up, followed by HiLo aerobics which burn fat at high energy levels. The class then performs various physical exercises based on movements of the upper and lower parts of the body. These exercises include the Tone & Step, and the BLT (Bums, Legs and Tums) workout which helps build upper and lower body strengths by using hand weights and one's own bodyweight.
The Saturday morning classes in Mosta are open to adult participants at all levels. The two sessions are held from 9.00am to 10.15am and from 10.30am to 11.45am. These are considered as convenient times for parents whose children attend sport sessions at same venue.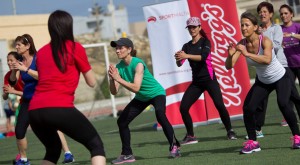 "It is vital for children to see their parents active in physical activities while they are practicing a sport," added Mr Baldacchino. For this reason, #OnTheMove Skolasport and Kellogg's actively encourage physical activities for both adults and children. Kellogg's invests in the communities where it operates, and is proud to partner with #OnTheMove Skolasport for the past 16 years to help improve the lives of the Maltese people.
#OnTheMove Skolasport also holds Aerobics classes for adults at various Sports Complexes, including Cottonera, Marsa, Tal-Ħandaq, Tal-Qroqq, Pembroke and Kirkop.
For further information about Aerobic Fitness Classes, or #OnTheMove SkolaSport programme, one can contact the Programmes Section at the SportMalta Head Office on tel. 2203 6000 or via e-mail: [email protected] or visit the SportMalta website: www.sportmalta.org.mt.