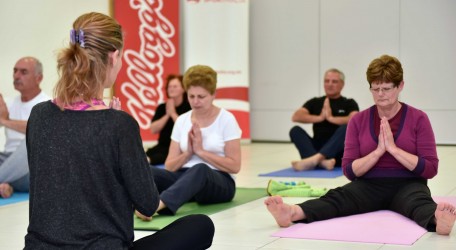 Moderate exercise and a healthy diet are some of the best practices a person can take up to keep the heart and body healthy. The yoga classes offered by the Kellogg's sponsored #OnTheMove Skolasport programme provide an excellent balance to today's hectic lifestyle, as well as a means to fight back stress and regain inner peace.
Skolasport Yoga Instructor, Shirley Cauchi, explains "Yoga is more than just a physical workout, it's about a healthy lifestyle. The practice of yoga allows participants to be still in a world consumed with distractions. Focused deep breathing and meditation practices help foster an inner peace and tranquillity away from the to-do lists and daily chores. Yoga helps relieve stress and unclutter the mind, getting you more focused and refreshed."
Robert Portelli, Head of Programmes #OnTheMove Skolasport said: "In addition to a number of sports disciplines geared for children and young people, we also offer various adult activities. Yoga is one of them. SportMalta actively encourages parents and adults to participate and engage in physical activity at least once a week."
"We offer also Aerobics, Aqua Aerobics, Fitness classes, Pilates, Tai Chi, and Zumba for adults. These classes are held concurrently with the children's sports sessions, making it easier for parents to participate rather than wait seated in their parked cars," added Mr Portelli.
Adult classes are offererd from seven different sports complexes namely: Cottonera Sports Complex, Marsa Sports Complex, Tal-Qroqq Sports Complex, Kirkop Sports Complex, St Ignatius College at Tal-Handaq, Maria Regina College in Mosta and St Clare College in Pembroke. It is never too late, parents and adults can join the new term starting from April and ending in May 2016.
"Kellogg's is a firm believer in encouraging a healthy and active lifestyle across all ages. Kellogg's, through its Skolasport sponsorship, is further underlining its commitment towards promoting a healthy lifestyle among Maltese families," said a Kellogg's spokesperson.
For further information about yoga classes, or any other sport disciplines practiced at #OnTheMove SkolaSport, one can contact the Programmes Section at the SportMalta Head Office on tel. 2203 6000 or via e-mail: [email protected] or visit the SportMalta website: www.sportmalta.org.mt.