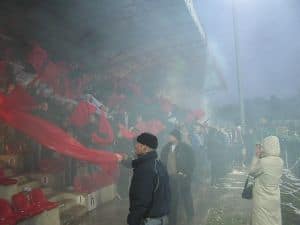 Regular guest blogger C. Schembri has "Something to Say" about what really lies behind being a fanatic
My facebook wall was literally drowned by football posts last weekend. And it was local! One of the most infamous matches took place last Saturday, Valletta versus Birkirkara BOV Premiere Cup challenge. And Valletta won. I watched the last few minutes of the game on TVM, as the fans jumped over the barricade and into the stadium to celebrate a victory which was taken for granted at 2-0, despite the final whistle not having been blown. Apparently, there was a lot of fighting on the Birkirkara side and some chairs were broken too. I can't be too sure, as TVM do not film this sort of behaviour.
This game got me thinking. I am not an avid football fan although I have been to the Ta' Qali National Stadium on occasion and I must say that sometimes the rowdy cheers and songs do make you feel like you are part of… something. The heaps of alcohol help too. It is one big party: does this remind you of anything? Yes, local feasts. It is now that time of year where Malta brings out the fireworks, marching bands and Holy statues. I have been to a good number of village feasts, mostly when I was a teenager and it was a permissible outing. The same thing happens at such feasts. There is lots of drinking, lots of good humoured back slapping, and lots of singing along to the marching band songs. And rivalry. In each town there are usually  two well-known marching bands representing two saints, and every single year one plus fights break out between these residents.
Back to polarisation and how we can obviously not omit the two major political parties and the major divisive effect this has on the local population.  Most Maltese people are raised with an ingrained sense of what it means to be a Nationalist or Labour supporter (and what do you exactly support? It is a political party, not a cause.) Such staunch supporters will always vote for their party, regardless whether there is a National Election, a Referendum on divorce or the Member of the European Parliament elections. They will show up at pre-election rallies and sing to their heart's content along with party favourites ('The only way is up' and 'We take a chance' are so inscribed on my brain that I find myself singing them occasionally as a pick me up in stressful moments – and no, I didn't attend either party's rally).
So do these bipolarities come natural to Maltese people? Is it programmed in our genetic code to believe single-mindedly in entities, clubs or saints that we, by and large, have no effect on and will carry on despite us?  This argument concerns me because in all of the above-mentioned examples and similar cases (since there is a football team for virtually every Maltese town and a band club or two as well), I have seen active vitriolic hatred for the opposing team or club. It may be that some of us take a lot of internalised anger and use these 'causes' to express and physically demonstrate it.
However, thankfully, it is not all doom and gloom. Most of these events (especially elections) grip people with a sort of temporary fever, and as soon as that particular moment has passed, everyone resumes their normal interactions with neighbours and friends alike.