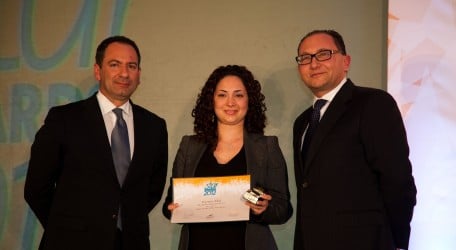 Ms Veronica Ellul (pictured above)  Chief Accountant at The Westin Dragonara Resort is the winner of the Hotel Worker of the Year award presented during the MTA Star Awards.
The seventh edition of the Malta Tourism Authority (MTA) STAR Awards was held recently at the Corinthia Palace Attard.  The 2012 STAR (Special Thanks And Recognition) Awards consisted of 8 awards for outstanding service and hospitality, and an award for an exemplary employee in the hotel sector – the Hotel Worker of the Year.
During his opening speech, the Authority's CEO, Mr Josef Formosa Gauci, congratulated all the nominees and said that hundreds of different individuals working in various tourism sectors were nominated during 2012 through nearly 6,000 tourist nominations. He mentioned the various programmes organised by MTA in order to continually improve the service offered to tourists.
The Minister for Tourism, the Environment and Culture, Hon. Mario de Marco, also thanked the nominees for the excellent service and hospitality they offer to our tourists. He stressed the importance of service in order to continually improve this industry. Dr de Marco maintained that the country experienced record figures in 4 out of the last 5 years. He stressed that the key to success in the tourism industry is a collective effort from the Government, MTA, all stakeholders, tourism operators and people working directly or indirectly in the sector.
Mr Michael Kamsky, General Manager at The Westin Dragonara Resort stated that 'Veronica is meticulousness in her role. Her supportive approach towards colleagues, coupled with her caring and altruistic nature evidenced through her contribution in voluntary events enabled her to guarantee the first place in such a prestigious event.'
The management at The Westin Dragonara Resort congratulates Veronica for her achievement and thanks her for her continued commitment in carrying out her appointed duties.