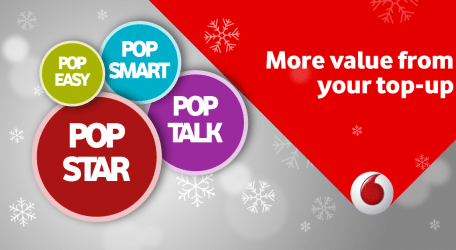 Vodafone Malta is celebrating Christmas in style this year with the launch of their new POP plans, a totally new range of four top-up plans that offer more value and flexibility.. What sets these plans apart is the way they have been individually designed to meet the needs of different customers and there is literally something here for everyone. Whether you use your mobile mainly for voice calls, or are more interested in texting or mobile data, Vodafone is offering the right POP plan for you.Choose between the POP EASY, POP TALK, POP SMART and POP STAR. With a €10 top-up customers can get started with the POP EASY.
This being Christmas, Vodafone is also offering free gifts to anyone choosing any of these POP plans until stocks last. Customers choosing any of these plans will be given free headphones if they opt for POP EASY, a free Powerbank with POP TALK and a Bluetooth speaker POP SMART. Those choosing POP STAR will be given a 3D Virtual Reality headset.
And that is not all. Any customer who buys a POP plan before 31st January 2016 will get double credit back on the top-up value of their particular plan.
Vodafone Malta is also offering the first POP top-up plan for free to any new customer switching to Vodafone for the first time. All plans offer 4G speeds and HD Voice, with value for money assured, since they offer the cheapest call rates to any local network at any time of the day. Customers can also sleep easy knowing that any out-of-bundle data usage is charged at Vodafone's RELAX rates only EUR2 per 100MB of data out of bundle with regular notifications to keep the customer informed exactly how much they are spending and which is now also available to all Vodafone prepaid customers.
For more information on Vodafone's new POP plans and the POP Christmas gifts and offers, customers are invited to visit their nearest Vodafone store to discuss the best plan that suits their particular needs. Further information can also be found on www.vodafone.com.mt/pop.