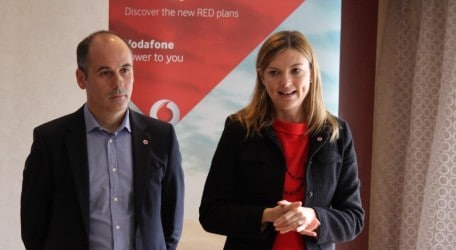 Vodafone Malta announced today that it is eliminating roaming charges in Europe with its new RED plans launching on 20th January. This is a first which once again confirms Vodafone's commitment to offering a superb customer experience.
New RED plans: free European roaming, large 4G data allowances and more
Vodafone introduces free European roaming as the company completely revamps its RED tariffs on 20th January. The new plans also include large data allowances on the company's national superfast 4G network and the same low rates for out of bundle calls and SMS to all European numbers, no matter if the customer is in Malta or abroad in Europe. Furthermore, with the new Vodafone RED plans Vodafone's customers will have the same rates for using internet on your mobile above their allowances at home and Europe.
Free RED Roaming in Europe
The new free RED Roaming service has been designed for Maltese customers travelling to all the 27 EU countries plus Albania, Iceland, Liechtenstein, Norway and Switzerland (altogether 32 countries). This means free incoming calls, free calls and texts to Malta for travelling purposes, as well as extra free mobile internet allowance when travelling that is added on to the local data allowance. With the number of Maltese travelling abroad increasing year on year – in August 2015 the National Statistics Office recorded an increase of 15.3% compared to the previous year, with the majority travelling to EU countries – these new plans will respond to a growing need on the part of Maltese consumers.
Same rates for calling and texting to Maltese and other European numbers
The new Red plans were created to keep customers fully connected before, during and after their trip as well. Therefore, on top of the free roaming calls and SMS back to Maltese numbers, Vodafone also significantly dropped the rates of calls and SMS to European numbers and with the new RED plans the same rates apply to these calls and SMS as to national calls and SMS outside the monthly allowance of customers. Again, no matter if they are made/sent from Malta or from other parts of Europe.
Same rates for using more internet on your mobile whilst travelling in Europe as in Malta
With the new plans Vodafone extends its local RELAX internet on your mobile rates to the RED Roaming European footprint. This means, if customers run out of bundle whilst roaming, a rate of only 2 EUR/100MB rate will apply (a drop of over 80% from the current 23.6c/MB).
Amanda Nelson, Vodafone Malta's CEO said "I think it is safe to say that Vodafone has always taken the lead in Malta, using its unique international network to drive relevant innovation for our customers, ever since we launched our services here 25 years ago. In the last couple of years we were the first to launch unlimited domestic tariffs with RED, we brought 4G first to Maltese customers, we launched crystal clear calls on HD voice in Malta, and we slashed out of bundle data pricing by 80% with RELAX. Most recently, we completed our nationwide 4G network rollout to give our customers superfast internet across the whole of Malta and Gozo – something they can still only have from Vodafone. Today we are again taking the lead, and giving our customers free roaming in Europe with the new RED plans. With this we are first in Malta and one of the first operators in Europe. We want to give our customers the best service without them having to worry about the costs not only in Malta but also when travelling in Europe."
From today, customers may opt for the new RED Start, Red Standard or Red Supreme. Business clients may also benefit of updated plans with similar benefits within the new Business Red portfolio. For more information, customers are invited to visit their nearest Vodafone store or visit www.vodafone.com.mt.