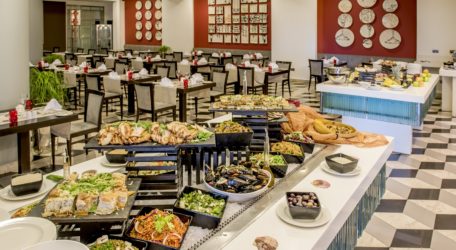 The Tabloid Restaurant was amongst the winners at this year's WRMC (Wines and Restaurants of Malta.com) Restaurants Quality Recognition Awards gala awarding best Maltese restaurants. This Blue Riband Restaurant award confirms The Tabloid as one of the top Sunday buffet lunch venues in Malta. 
Unquestionably this was another major achievement for this restaurant which is well-known for its quality, level of service, the freshness of ingredients, attentive preparation and presentation. All these qualities have been remarkably consistent on a high level since the beginning of The Tabloid Restaurant at AX The Palace. 
Speaking at the end of the Awards night, the hotel's General Manager, Mr Kevin Callus expressed his gratitude to the team: "I want to applaud the team at The Tabloid for this accomplishment and relentless dedication," said Mr Callus. 
The recognised restaurants entitled for these awards are those that have been directly surveyed and inspected by the professional survey teams of WRMC. It's interesting to note that over 120 restaurants were inspected during 2018. During the WRMC Awards, restaurants are inspected by anonymous surveyors and are judged repeatedly across the whole year on several facts including atmosphere, cleanliness, cuisine quality, management and service efficiency, attitude towards clients, value for money and other key points.
Sunday's buffet lunch at The Tabloid Restaurant offers a varied selection of antipasti that feature sushi, shellfish, meat platters and fresh salads, moving on to soups and home-made pasta. This is followed by a choice of two carvery dishes and four main courses along with several vegetable dishes.  There is also a gluten-free and vegetarian corner.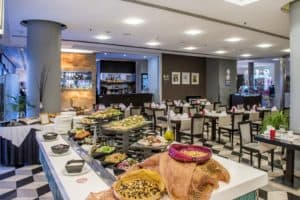 For those with a sweet -tooth, the dessert selection will tease one's taste buds with the array of mouth-watering mousses, cheesecakes, sorbets, ice-cream and the delicious home baked white chocolate cheesecake and an assortment of fresh fruit. Cheese lovers are not overlooked and find an abundance of fine cheeses. Moreover, The Tabloid is also making available two themed food stations per week for every Sunday afternoon lunch.
The Tabloid Restaurant is the ideal location for dining in Sliema for those seeking to plan a business dinner, a romantic meal or a family get together. The ambience at this restaurant offers a combination of contemporary interiors and traditional quality and those opting for this restaurant will experience fine dining in Sliema with a bursting décor that is welcoming and fresh.