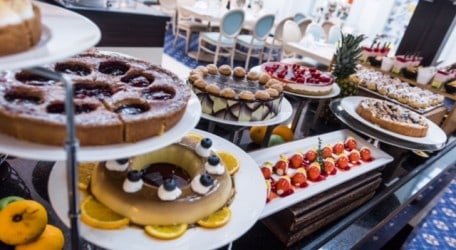 Sunday is the perfect day to relax and spend some time with family and friends over a delicious Sunday lunch. Now that the summer season is over, it's time to get back to our usual routine and making Sunday afternoon relaxing, while lunching with family and friends at one of Malta's most popular Sunday lunch venue, The Victoria Hotel in Sliema.
This hotel, which forms part of AX Hotels portfolio, will restart with its Sunday buffet lunches at The Copperfield Restaurant, as from Sunday 1st October. The chefs of this welcoming and acclaimed restaurant, under the guide of The Executive Chef George Mercieca, will make you feel like at home with cosy and heart-warming food for your heart and soul. The Copperfield's Restaurant is located at The Victoria Hotel and is renowned to have a signature scene of the hotel itself, revealing a fresh and bright new look, new aquamarine colour palette scheme and subtle floral patterns. The restaurant's setting will throw you back in time of the eloquent 19th century and giving you the experience of a true Mediterranean food journey.
Indulge in The Victoria Hotel diverse selection of fresh soups, build your own salad station, pastas and appetising selection of hot dishes that will surely redefine your concept of buffet dining. For those looking for the sweeter side of the buffet, they may feast their eyes upon attractive top-notch desserts. Furthermore, a cosy environment and a free flow of wines, beers and soft drinks accompany this delightful food.
"Sundays are tricky as there are many choices when it comes to lunch. For us at The Victoria Hotel the Sunday lunch buffet is more than about delicious food, it has become tradition hence we give more than our utmost to make sure that we deliver the very best and making sure that our guests enjoy their stay at The Copperfield's restaurant. We enjoy welcoming repeated clients, as this is the best proof that we are doing a good job week after week. We invite everyone to come and lunch at our restaurant and enjoy their Sunday lunch with family and friends in style," said Chef George Mercieca
For further information regarding The Victoria Hotel Sunday buffet lunch, log on www. victoriahotel.com or contact us on +356 21334 7711.