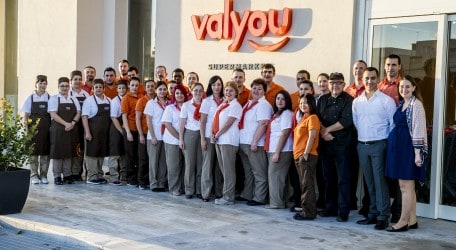 The Concept Stadium creates a new supermarket chain brand
In today's competitive landscape, it's all about emotional engagement – connection, meaning and differentiation are everything. That is why The Concept Stadium made strategy the backbone behind the creation of a fresh brand – 'Valyou'. The former GS superstore brand has now changed to Valyou Supermarkets, reinventing itself around the new brand promise of providing added value to each and every customer through the product offering and their shopping experience.
"A lot goes into re-envisioning and re-launching a brand. We believe that when it comes to brand positioning, the less complicated you make it, the more compelling it will be, as long as it is true. We know that customers are constantly looking for value in whatever they buy, so we played around the word to come up with 'Valyou', making a strong emphasis on YOU. Valyou puts customers at the centre of the whole experience and delivers a superior shopping experience with added value," said Jonathan Dalli, Managing Director at The Concept Stadium. In addition, Jonathan Chetcuti, Director at The Concept Stadium said "The colours we used for the Valyou brand complement the warm shopping experience one finds in the Naxxar and Mellieha outlets. Our creative team worked hand-in-hand with the Italian architects and interior designers who were entrusted with this project to ensure that we project the same look-and-feel as the interiors of the stores via an approachable and smiling brand".
The process of re-branding was long, but worth the effort at the end. It started with market research and eventually, a naming exercise highlighting the advantages of creating a single brand for multiple locations and platforms. Thereafter the team at The Concept Stadium analysed the core brand offering and came up with a new strategy for the new Valyou brand. Initially, it started with a moodboard that outlined the target market, proposed design styles and general feeling the brand was striving to communicate; and continued with an exhaustive competitive analysis in order to find the perfect brand personality, culture and vision, which ultimately led to the new brand identity and the new tagline – your home for fresh. This approach helped the boutique marketing consultancy firm make an informed 'road map' for design and other brand adaptations, including launch. With a well-planned and designed brand launch, the rest of the brand's marketing materials, such as the website, signage, stationery and social media became easy and focused.
Raymond Mintoff, Managing Director at Valyou Supermarkets thanked The Concept Stadium for their support on the project. "We worked hand in hand with The Concept Stadium to make sure that we differentiated ourselves and that our new brand is customer focused. Through our new brand identity we are offering our customers convenient shopping, great offers, and food quality and variety to help Maltese shoppers enjoy their limited time in an attractive and calm atmosphere," he concluded.