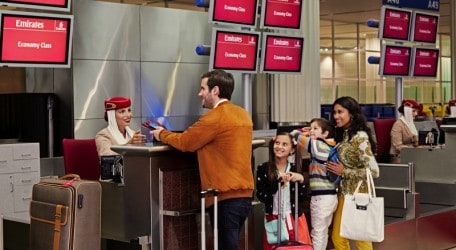 Emirates is offering special Economy Class fares all throughout the month of June on 36 destinations across the Middle East, Far East, Southeast Asia, Africa and Australia.
All inclusive Economy Class fares start from €644 to Dubai, €681 to Shanghai, €749 to Johannesburg, €753 to Bangkok, €851 to either Haneda or Narita in Japan, and €1,339 to Melbourne.
Promotional fares also apply to Accra, Auckland, Bali, Bangalore, Beijing, Cape Town, Christchurch, Colombo, Delhi, Doha, Guangzhou, Hanoi, Ho Chi Minh City, Hong Kong, Jakarta, Nairobi, Kuala Lumpur, Kuwait, Maldives, Manila, Mauritius, Muscat, Mumbai, Yangon, Phuket, Singapore, Seoul, Sydney, and Taiwan.
Tickets can be purchased until 30th June for departures from today to 31st March 2018. A supplement of €20 will apply for departures on Friday and Saturday. Blackout periods, seasonality and other terms and conditions apply.   Book now to avoid disappointment.
Emirates operates a daily flight between Malta and Dubai, via Larnaca, Cyprus, on a Boeing 777-300ER aircraft. Travellers usually look forward to award-winning service and hospitality from the airline's multi-national cabin crew while enjoying gourmet meals and beverages. Emirates also offers over 2,500 channels of on-demand audio and visual entertainment on its award winning ice system, from the latest movies, music and games.
Tickets can be booked online: www.emirates.com/mt; from respective travel agents or from Emirates Sales Office at MIA Departures Lounge on tel 2557 7255.