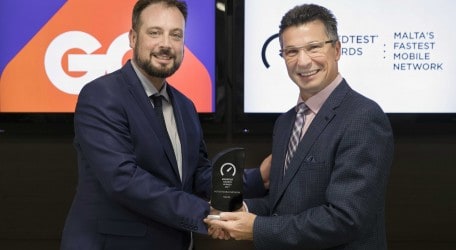 Pictured above: Adam Keating, Sales Director EMEA at Ookla (left) presenting the award to Attila Keszeg, CEO at GO plc
GO has once again been confirmed as the fastest mobile network in Malta and Gozo, this time based on the experience of consumers themselves. Ookla®, the company behind the widely used Speedtest® app, has awarded GO its "Speedtest Awards Winner 2017 – Mobile Network Speed" title based on results taken during the first half of 2017. The award comes just weeks after the publication of research by independent German firm NetCheck, which also showed that GO has the fastest mobile network in Malta.
This award is based on the results obtained from thousands of unique customer initiated speed tests carried out both indoors and outdoors all over Malta and Gozo. The Ookla Speedtest Award reconfirms the nationwide strength of GO's Mobile Network, the benefits of which translate into a far better service that thousands of customers can actually experience.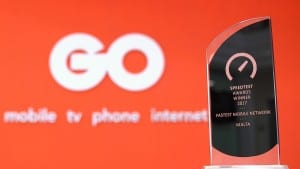 Attila Keszeg, CEO at GO plc, said, "Speedtest is an app which customers in many countries are very familiar with. Known for its reliability, independence and objectivity, Speedtest is widely used to check that promised speeds are actually being delivered. To have the reaffirmation through this trusted app that GO has the fastest nationwide mobile network which is delivering an enhanced customer experience, is very satisfying. It also gives us the energy to continue working hard to provide customers with the best possible mobile experience everywhere."
Ookla, the company behind Speedtest, is the global leader in internet testing and analysis. Used over fifteen billion times worldwide, Speedtest by Ookla is the most accurate way to measure internet performance and network diagnostics. Ookla provides people with independent insight into the speed and quality of their mobile and fixed broadband connections. This gives consumers the information they need to understand and troubleshoot their internet experience. More information is available at www.ookla.com/.