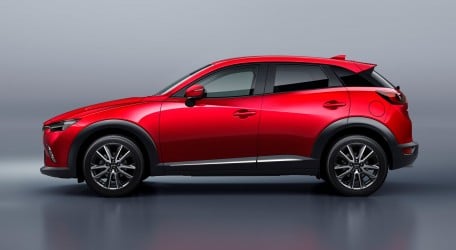 The all-new Mazda CX-3 is set to take on the small SUV class with a successful combination of engineering, design and a flexible driver-oriented approach and the timing couldn't be better. Highlights include: A boldly inspired KODO exterior, SKYACTIV Technology for outstanding dynamic performance, Mazda's patented sporty handling and uncompromising fuel efficiency. While sharing many KODO design traits with other new-generation models, the Mazda CX-3 exterior clearly expresses speed, quality and vitality.
In an age of endless choice, it's a look that stands out. The cabin, too, combines the best of all worlds for unconstrained driving, superb visibility and the comfort of a uniquely ergonomic interior that seems like it's from a larger class of car. Safety and usability are top priorities with Mazda's new-generation human-machine interface, giving the driver the full benefit of the CX-3's extensive technology.
SKYACTIV powertrains move the Mazda CX-3 in ways that feel natural to the driver, with powerful linear acceleration and abundant torque. Tuned to provide a powerful linear response from a standstill, they're also remarkably fuel efficient. Conceived to offer inspiring and unrestricted mobility, the Mazda CX-3 is available with front-wheel drive (FWD) or all-wheel drive (AWD). Both versions deliver confidence-inspiring handling and road stability as well as outstanding crash safety.
Mazda took a human-centric approach to developing its first small SUV. Instead of looking at what the competition was doing, the unconventional carmaker instead asked what form this model would take if its young and creative users were to be in the ideal position at every point of contact with the car.
As a result the car enjoys an exceptionally ergonomic heads-up cabin and human-machine interface, the safe and easy-to-use smartphone connectivity system, and vast line-up of active safety technology. And the responsive yet efficient SKYACTIV powertrains and exceptional car-like handling. And all the choice: economical FWD or intelligent AWD, diesel or petrol, automatic or manual – the list goes on.
All this makes the CX-3 a smart choice for a wide range of needs: A vehicle that connects with its owners and fosters their independent, active lifestyles. With the all-new Mazda CX-3 Mazda sets the standard for the quickly growing league of B-segment crossovers and for a new era of go-anywhere freedom.