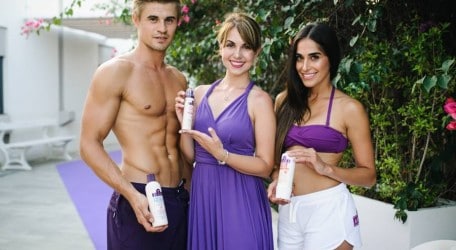 Pictured above: Aussie Model, Marco, Aussie Brand Manager, Marija Mijovic and Aussie Model, Janice
The Aussie line-up offered by VJ Salomone Marketing was launched in Malta at the start of July, and currently consists of 23 items in total. The range is already available at leading stores, including Smart Supermarket, GS Superstore, Park Towers Santa Venera; Shoppers; Carters; Melita Pharmacy, Remi Hairdressing and via the official VJ Salomone Marketing online shop: shop.vjsm.com.mt – with heaps more to join the list soon!
For those who don't know the philosophy – Aussie is about wanting your hair to look good. But it's also about never letting that get in the way of having a good time. We know you'll love the Aussie line-up almost as much as you'll love your Aussome hair after using them. Because hey, although we know there's more to life than hair, we still think it's a pretty good place to start.
"Those in the know have passed on our secret to those not yet converted" (Aussie). To continue spreading the purple love and tales of Aussie Aussome-ness, please make sure to tag any social media posts related to the brand with #aussiemalta #findyouraussome