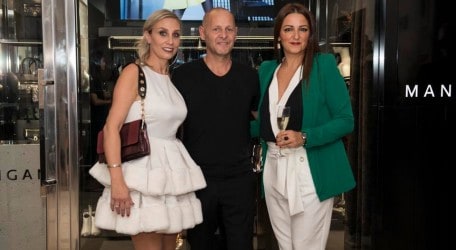 Pictured above: Romoulda Vella, Director of Mangano Malta, Antonio Mangano, CEO of Mangano & Claire Zammit Xuereb, Director of Hospitality at AX Hotels
Italy's famous fashion brand Mangano and The Palace are expanding their partnership, with Mangano opening their second outlet at Sliema's luxury 5-star hotel. The inauguration of this new outlet took place on Thursday, 26th October. This business relationship brings The Palace further in the fashion scene following last year's collaboration announcement of both Mangano and The Palace, with the intention to fuel further commercial and employment growth.
During the same night, Mangano Malta were also celebrating their 1st year anniversary, from opening their popular store in Bisazza Street, Sliema. The new outlet at The Palace was unveiled to media representatives and fashion bloggers by the CEO of Mangano, Mr Antonio Mangano who came specifically to Malta for this fashionable event. The Director of Mangano Malta, Ms Romualda Vella and the Hospitality Director at AX Hotels, Ms Claire Zammit Xuereb were also present for this special occasion.
"Today we are celebrating another important milestone in our corporate and business cooperation with Mangano. We are thrilled and excited that such a prestigious and respected fashion brand has set up shop in the hotel. This proves that since last year, both The Palace and Mangano have worked hard to fortify the partnership, which started slowly with events, discounts, and other marketing efforts. It has always been our goal to get The Palace, in the high-end fashion scene and to work with an international fashion brand such as Mangano. Undoubtedly the decision to work together has proved us right, as Mangano's designs and brand match very well with the trademark of The Palace, and complement our uniquely designed suites from The Designer Suite Collection" said Ms Zammit Xuereb.
On behalf of Mangano, Ms Vella expressed her gratitude towards Ms Zammit Xuereb, The Palace and AX Hotels, for their continuous support and dedication. She claimed that Mangano are happy that the brand has developed and established itself as a leading international fashion brand in the Maltese islands. Moreover, Mangano are enthusiastic to have expanded and opened another outlet at The Palace, "where not only locals but foreigners too, can get to try the Italian fashion brand."
The opening of Mangano's second outlet at The Palace was followed by a reception in front of the outlet in Bisazza Street, for which The Palace provided the catering. Guests enjoyed a fashion show, prosecco and sweet treats created by the talented chefs of The Palace.