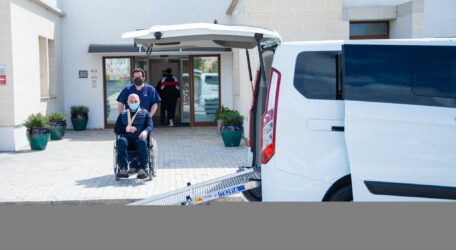 Legacy taxi operator Malta Taxi, which was rebranded last year and has since continued to invest in new services and technology, has just launched its latest service for the disabled with no fewer than five local taxis being specially fitted to accommodate wheelchairs.
This is in response to local demand but also to gear up for the expected increase in tourist arrivals over the coming months, with the plan to double that number by year end. A spokesman for Malta Taxi said the new service is part of a concerted plan to widen its service offering.
"Wheelchair-friendly taxis can be booked via the mobile app, through the website www.maltataxi.mt and over the phone. It now takes less time to get from an incoming aircraft to the hotel or residence of your choice.
"In the first six months since we launched the app, we received over 20,000 bookings. Obviously, as usual, January and February – also due to Covid – were quiet months. We took it as an opportunity to continue improving and offer added value as part of our commitment to raise standards and differentiate ourselves from the current market," the spokesman said.
In a little over six months since Malta Taxi has rebranded, the operator has made a lot of changes, not just from the technology aspect teaming up with HandsOn Systems, but also from a marketing aspect and service offering. As promised, there are a number of other new offerings that will be launched soon.
These include an upgrade to the current app to Version 2, with improved features and the functionality to book tours. "We are trying to automate certain instructions in the app," a spokesman for HandsOn Systems said. "The app itself is helping drivers to follow certain procedures. However, the intention is, before the summer season, to start organising training sessions both on the technology side but also on the customer service side."
The forecasts for 2022 are positive. Along with increased tourist arrivals, Malta Taxi are also seeing an increase in bookings compared to 2021. "Malta Taxi, along with HandsOn Systems, is highly committed to bringing added value to improve the service but also to continue disrupting the taxi market in Malta."
With competition from both international operators and cab companies with over a decade of experience in the field, this is a David and Goliath story. "What we lack in set-up and scale, we make up in nimbleness and plenty of motivation and enthusiasm.
"Since the taxis have been handed down through generations, the taxi drivers are protecting their livelihoods. They knew that something had to be done and now they are taking it very seriously," the Malta Taxi spokesman said.
This is a complete package – from investment in new vehicles to new uniforms, training on better customer service and a constant effort to improve. "We are preparing for next summer so that, together with these changes and new services, hopefully it will be a good summer for everyone," the spokesman said.