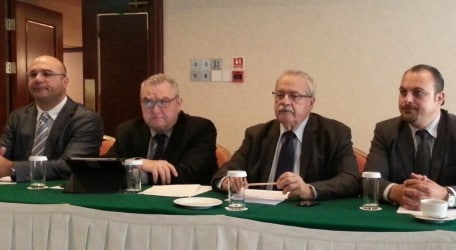 Jean-Paul Florentin, President of UEPC (Union Européene des Promoteurs-Constructeurs – European Union of Developers and House Builders), has been in Malta as the guest of the Malta Developers Association this week.
UEPC, an association of European developers, is recognised as an official group by the European Union for consultation purposes regarding EU decisions on relevant matters. Developers' associations from the UK, France, Italy, Spain, Holland, Poland, Belgium, the CzechRepublic, Rumania and Turkey are UEPC members. Further information on UEPC can be sought at: www.uepc.org.
Mr Florentin is a leading developer in Alsace, France, and is based in Strasbourg. During his visit to Malta Mr Florentin held discussions with the MDA on the possibility of MDA becoming a UEPC member, as well on the situation of developers in Malta and in other EU countries. He met the Hon. Michael Farrugia, Parliamentary Secretary for Planning and Simplification of Administrative Processes, and the MEPA Chairman, perit Vincent Cassar, during courtesy visits and also visited two leading developments in Malta in order to familiarise himself with the local situation.
Although the EU does not have a Commissioner directly involved with development, there are a number of areas in which UE decisions and directives impinge directly on development. These include such issues as the directives on Environment Impact Assessments (EIAs) and on energy efficiency in buildings as well as taxation issues. UEPC has a permanent office in Brussels from which it lobbies with the EU whenever decisions directly or indirectly affecting development are being considered by the various Commissioners.
The MDA is committed to promote sustainable development in Malta, while defending the interests of its members. It intends to become an UEPC member so that it will be possible to lobby officially at a European level in the interest of its members. A change in the UEPC membership fee parameters to make MDA membership affordable is necessary and this is to be made in the coming weeks.