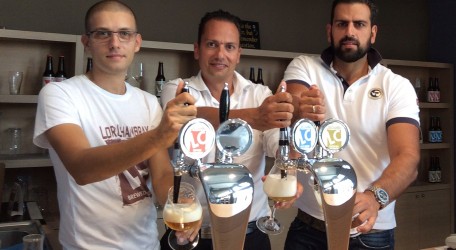 Lord Chambray, the artisanal brewery in Xewkija, Gozo, has appointed Mirachem Ltd of Birkirkara as their distributors in Malta, alongside Abraham's Supplies in Gozo.
A family-run business with a 30-year track record, including the last 14 in the beverages business, Mirachem has been tasked with bringing the three Lord Chambray ales, San Blas, Blue Lagoon and GoldenBay, to leading outlets around Malta.
This initiative began at the end of August and already some 50 outlets, including restaurants, hotels and supermarkets around the island, have started stocking these premium beers and even reordered fresh stock.
Samuele D'Imperio, Managing Director of Lord Chambray Ltd, expressed satisfaction at the appointment: "I am confident that in Mirachem Ltd we have found our ideal partners to bring Lord Chambray to the discerning Maltese public.
"Thanks to their robust sales and distribution network, there will be the ideal penetration of our high quality, artisanal ales which, once tried, will conquer their segment of the market."
Andre Grech, Managing Director of Mirachem Ltd, said: "As purveyors of excellence, our company is proud and honoured to have been selected as the Malta distributors of this range of exquisite artisanal ales brewed in Gozo.
"We are always on the look-out for beverages that are different and Lord Chambray beers certainly fit that profile perfectly. I am confident that we will play our part in bringing these craft beers to a wider Maltese audience."
For a full list of outlets in Malta and Gozo where Lord Chambray beers are on sale visit their Facebook page or log on to www.lordchambray.com.mt.
Lord Chambray Ltd – Drink Different
Lord Chambray is an artisanal brewery on the island of Gozo. The company's vision is to put the brewing of beer on a whole new level locally, achieving a top quality product that will attract discerning clients, who appreciate all that goes into the making of an artisanal beer.
To achieve its mission, it has invested in equipment of the highest quality, used the knowhow of Italy's leading Master Brewer, Andrea Bertola, and acquired top quality raw materials, which are sourced in leading beer-brewing countries like Belgium, the United Kingdom and the United States.
Their current product range consists of three premium ales: Blue Lagoon, a Blanche beer that follows a 400-year-old Belgian recipe; GoldenBay, an American craft-style beer brewed with hops imported from the US; and San Blas, brewed with a blend of hops, especially Cascade and Amarillo, to obtain a more aromatic and very appealing taste.
Lord Chambray's owners, the D'Imperio family from Novara in the northern Piedmont region of Italy, have taken a quality approach in every single aspect of the business. Their love for beer came about because the artisanal brewing process involves a lot of pride and passion for quality and refinement. They wish to share this pride and passion with the clients, the people of Malta and Gozo.
About Mirachem Ltd – Purveyors of Excellence
Established in 1984 by Ferdinand Grech, the company is now in its second generation, with the brothers Andre and Nicholai running the business. Mirachem Ltd spent the first 15 year focusing primarily on personal care products and household consumables.
In 2000 the company diversified and entered the beverage business first importing Warsteiner beer, various spirits and, more recently into wines. It was always on the look-out for what is different, including importing wines from such unlikely places as Syria, Japan, Morocco and Uruguay. It is a leading wine importer with beverages now representing 75% of its business.
Mirachem Ltd has 20 employees, six of whom are in sales, with deliveries to every outlet in Malta. In terms of wine turnover, 65% or sales by value are in supermarkets and 35% in restaurants. For more information visit the Facebook page www.wine.com.mt.