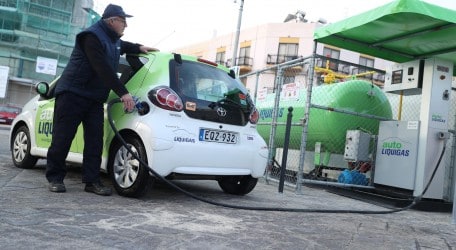 Save up to 50% of fuel costs and reduce CO2 when running your car on LPG
Liquigas Malta continues to expand the supply of the alternative cleaner fuel – Liquified Petrolium Gas (LPG) for vehicles and has opened the 5th AutoLiquigas Filling Station at Santa Maria Service Station in Mellieħa. This is a convenient location for people living and working in the northern region of Malta, and also for those who are going or coming from Gozo.
Around 2,000 vehicles have been converted from petrol to LPG since the launch of AutoLiquigas in Malta in 2012. Estimates show that in 2016 vehicles running on LPG have reduced over 500 tons of carbon dioxide (CO2), in addition to significant reductions in nitrogen oxides (NOx) and particulate matter.
Four other operational stations are offering AutoLiquigas. These are at Malta International Airport Service Station in Gudja; J Micallef Service Station in Triq Buqana, Rabat; Wembley Service Station in St Andrew's Road, Swieqi; and VC Service Station in Naxxar Road, Għargħur. Two more AutoLiquigas dispensers are planned to be completed by the beginning of 2018, including one in Gozo.
Liquigas continues to keep its promise on the price of AutoLiquigas. With the selling price of LPG at €0.65 per litre, it is 50% cheaper than unleaded petrol (currently at €1.31), and 45% cheaper than diesel (currently at €1.18). Car conversions are particularly cost effective for those car owners who use their vehicles daily to commute or for transportation.
Liquigas Malta CEO, Roberto Capelluto, said: "As more drivers are switching their cars to LPG, we reaffirm our commitment to offering an adequate spread of AutoLiquigas filling stations across Malta. Apart from cheaper running costs, consumers are becoming more aware of LPG as a safer fuel alternative as it reduces the carbon footprint on average by 12% when compared with petrol. Clean and efficient combustion means that LPG vehicles also produce fewer harmful pollutants.
"The financial incentives in this regard are, in effect, a contribution not only in cleaner air, but they go a long way towards improved health and well-being of Maltese citizens, together with the targets of CO2 reduction required by the EU," added Mr Capelluto.
Vehicle LPG conversions are being carried out by seven authorised autogas installers across Malta. LPG conversion results in a dual-fuel car – that is a car that can run on either LPG or petrol at the flick of a switch, even while driving. Car owners can apply for the government's gas conversion scheme from Transport Malta which grants up to €200, subject to some conditions. Government has further extended the scheme in the 2018 budget.
Photocaption: The new AutoLiquigas fuelling pump at Santa Maria Service Station in Mellieħa