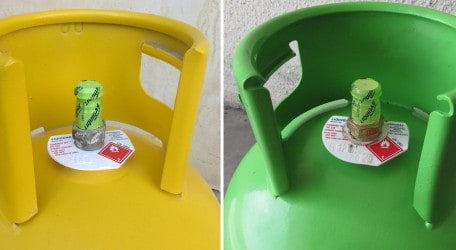 Liquigas Malta has introduced new heat shrink seals on all its green and yellow gas cylinders as from October 2016. It is part of Liquigas ongoing commitment to ensure safety, quality and best service to its customers in Malta and Gozo.
During the month of October, gas distributors will have cylinders with either new and old seals available, but as from 1st November 2016, all Liquigas cylinders will carry the new light green shrink-wrapped seal with the words "Liquigas". This new seal indicate that the cylinder was filled at Liquigas modern facility in Bengħajsa and therefore carry the guarantee of quality and that it was properly filled according to requirements. These new seals also offer a simpler and more convenient system for consumers to take off the seal before use.
"With this new Liquigas seal, our customers will now have peace of mind that the cylinders have been filled according to the international standards adopted by Liquigas. Customers are urged to check that the seal is intact and not tampered with in order to ensure that they are receiving a cylinder that is properly filled with good quality of gas. The seals also carry a serial number for identification and traceability. These seals will also differentiate Liquigas green and yellow cylinders from other suppliers and offer a better product.
The company has also uploaded photos showing the new heat shrinked seal on both yellow and green Liquigas cylinders. Customers can view these photos at http://liquigasmalta.com/new-cylinder-seals explained Liquigas Malta Chief Executive Officer Roberto Capelluto.