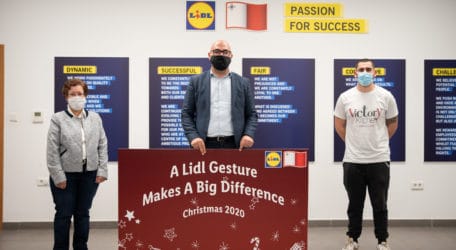 As part of its CSR endeavours and as a heartfelt contribution at the end of such a difficult year, the company made a substantial contribution to Caritas Malta, Hospice Malta, Id-Dar Tal-Providenza, the Malta Food Bank Foundation and the Victory Kitchen.
2020 has been a truly unprecedented year in which many people faced extraordinary situations, often struggling to make ends meet. This is why, Lidl Malta, the leading retail chain on the Maltese islands, has decided to donate its annual budget allocated to the festive, end of year dinner to charitable organizations instead. This means that the budget normally allocated to our traditional Christmas dinner, hosting over 350 employees, will instead be defrayed altruistically. Through this initiative, the Company has transformed a moment of conviviality, which this year could not have taken place in light of the health emergency, into a solidarity gesture with a great social impact. In order to do so, the Company left it up to their team members to decide who to donate their 'End of Year Dinner' budget to.
In the end three (3) NGOs were identified, Caritas Malta, Hospice Malta and Id-Dar Tal-Providenza, who received, between them a financial contribution of over €10.000. In addition, the Company topped this up with a further donation of €6.000 worth of products that was divided between another two entities, The Malta Food Bank Foundation and the Victory Kitchen.
"We know that a Lidl gesture makes a big difference! We embrace this motto fully and so does our team. The whole company has been involved in this initiative and we are truly honoured to make such a tangible contribution to those who are less fortunate amongst us. Year after year we have invested in our Corporate Socially Responsible projects and have reached out to a number of NGOs to help as much as possible. We know that we play an important part in the society in which we operate, and this is why we feel committed towards giving something back." said the Lidl Malta management.
Lidl Malta, with 8 stores on the Maltese islands, strives to be an active part of the society around it. With this in mind, the company, year after year, develops a broad year-long proposal to work hand-in-hand with various charities and non-profit organizations.