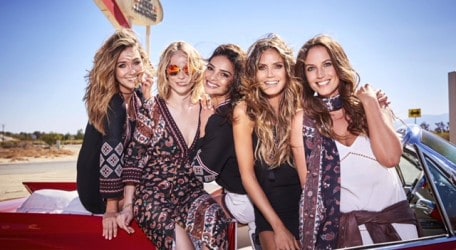 This year, summer starts earlier with #LETSLOVESUMMER , the fourth collection under the brand name "Esmara by Heidi Klum" for sale in all Lidl outlets from the 18th June. A line inspired by the carefree bohemian style, with colourful patterns and with prices in line with the chain's offer. Trendy and with endless combinations, the key pieces of this summer line are especially thought of for women and girls with a gipsy spirit.  
In June, "Esmara by Heidi Klum" kick starts a summer brimming with passion for fashion with its fourth limited edition; #LETSLOVESUMMER. The new line includes around 30 clothing items designed for women as well as girls from the ages of 12 months to 6 years and incorporates fresh and summery looks representing and inspired by the bohèmian mood. Cashmere and geometric patterns, colourful fringes, light fabrics and trendy jeans; the collection offers the perfect possibility to create a personal style at a convenient price to all those who love fashion. 
"For me it is important that the garments of my collection can be easily combined and give the fashionistas the opportunity to create many summer outfits: for an easy look during the day you can wear shorts with colourful patterns and a simple top, while for the evening a fantastic maxi dress," says Heidi Klum.
Light and carefree
The casual style which is typical in California, Heidi Klum's adoptive home, is currently fashionable all over the world. "Starting from 18th June, the stylish collection from "Esmara by Heidi Klum" will be available in all Lidl outlets at a convenient price, as all the Lidl offers are. With #LETSLOVESUMMER, our customers, will be able to welcome summer with a trendy and striking style", says the Lidl Malta management. With the gypsy maxi dresses, kaftans with geometric details, tops and shorts with refined patterns, jeans and flat leather sandals, the line offers women and girls the must-haves to create countless fashionable combinations. 
On Sale: 18th June
The new collection #LETSLOVESUMMER from "Esmara by Heidi Klum" will be available in all Lidl Malta stores and in all Lidl outlets, present in 28 countries around the world, from Monday 18th June, in occasion of the "Lidl Fashion Week". In addition to the women's line with sizes ranging from 34 to 44, this summer edition also includes clothing and shoes for girls from 12 months to 6 years.