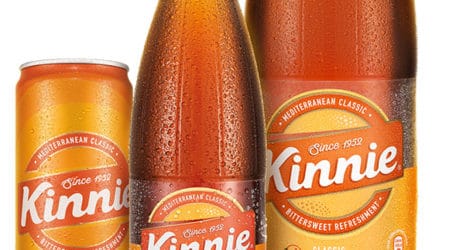 Malta's own favourite soft drink, Kinnie, has been given a new contemporary visual identity which features in a multi-channel communications plan.
The new brand identity, strongly reflected in new packaging designs, reinforces the brand's premium credentials, inviting consumers to rediscover 'The biggest flavour under the sun'.
"An intrinsic part of Maltese life, Kinnie will surprise and delight consumers with its new packaging and communications. This summer, Kinnie will be celebrating simpler times, drawing on its heritage as 'The Mediterranean classic since 1952'," said Ms Maya Muscat Azzopardi, Brand Executive for Kinnie.

Ms Susan Weenink Camilleri, Head of Marketing & Communications, said, "We have looked at world trends and listened to local consumers across generations and across the Maltese islands. The result is a redesigned brand that takes a positive step forward, whilst making a warm and nostalgic nod to the past. The package line-up includes a new 1 litre bottle as part of our strategy to offer consumers more choice in line with evolving consumption trends.
"As we look towards further expanding Kinnie to overseas markets, this redesign indicates our determination to establish Kinnie as an equally loved brand outside Maltese shores." 
The Kinnie portfolio includes Kinnie, Diet Kinnie and Kinnie Zest, produced, marketed and distributed by Simonds Farsons Cisk plc.