Vintage cars and well-dressed models were the star attractions on a recent Saturday afternoon in the heart of Attard's village core, as both cars and models posed for a fine fashion photo-shoot. The unexpected spectacle was chanced upon and reported about as it happened.
The models were showing off the spring/summer 2016 collection from a local boutique whose owner Stefania Vella said, "This is the second year running that we have organised this kind of photo-shoot for the concept boutique which stocks these garments and much more beside." Apart from clothing, the Stefania's Sweet Boutique also stocks Sicilian food delicacies and fine art gifts, a quaint old-fashioned 'casa bottega' set in the heart of Attard.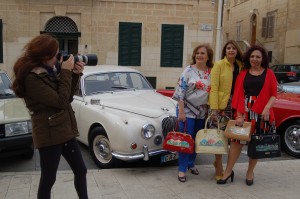 Stefania organised the small vintage car exhibition contemporarily with the photo-shoot. The stunning variety of vintage cars whose owners are all members of the Old Motors Club Malta included a Jaguar 240 model, an Alfa Spider Touring 2000, a Mercedes Benz 500 SL and a Fiat Regata 70. Backdrops for the photo shoot were not only the Attard village core surroundings, and the vintage cars, but also the interiors of a handful of Attard's oldest houses, their gardens and courtyards.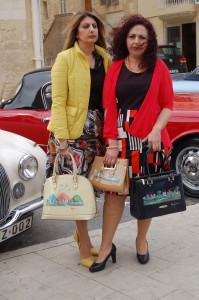 The models wore colourful summery outfits, all rigorously Italian, accompanied by unique fashion handbags creatively designed by Sicilian artist Salvatore Montanucci. The Montanucci handbags were cheerful and stylish accessories to complement also exceptional handmade jewellery of silver, gemstones and pearls, sourced from around the world under the name of Gioielli di Nina. Also busy on the set were make-up artist Violet Vella, hairstylists from Straight Cut Salon and photographer Valentina Lupo.