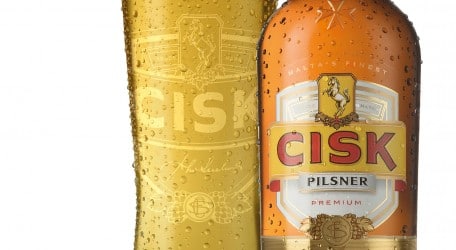 Originally brewed by Farsons Brewery in the late 1940s and now being introduced once again, Cisk Pilsner is a premium Pilsner combining a tradition of brewing excellence and passion with the finest quality Pilsen malt and Noble hops of the Saaz variety. Cool, crisp and immensely satisfying, with an alcohol content of 5.5%, Cisk Pilsner offers the discerning beer connoisseur a remarkably crisp and well-hopped flavour with a rich white head, a delicate bitterness and a superior aroma originating from the rich essential oils present in the Noble hops.
Cisk Pilsner is the perfect accompaniment to light pasta dishes and seafood risottos, shellfish, smoked salmon and sweet and spicy, rich flavoured, poultry. Fresh cheeses such as goat's cheese, fresh mozzarella and light cheddar also pair perfectly with Cisk Pilsner.
"The beer market is getting exciting once again, following a period of flat or declining sales in a number of markets across the globe," said Susan Weenink, Head of Marketing and Communications at Farsons. "Beer consumers are truly becoming interested and engaged with the large number of new beers, mainly craft and speciality beers, which are being launched. Cisk Pilsner is the result of many years of development and investment and we are truly excited to have arrived at this point."
Eugenio Caruana, Head Brewer at Farsons commented: "We are very proud of our long standing brewing excellence and capabilities, and we are confident that the beer connoisseurs out there will appreciate and enjoy this speciality beer. Cisk Pilsner is truly a Pilsner of exceptional quality."
Karl Bondin, Beer Manager at Farsons added that "Cisk Pilsner is available in 33cl bottles in selected restaurants, bars and pubs across Malta and Gozo, as well as in major retail outlets. Cisk Pilsner will of course also be available at the Farsons Beer Festival which will be held at Ta' Qali between the 22nd and 31st July 2016."
Cisk Pilsner is brewed, packaged and distributed by Simonds Farsons Cisk plc.