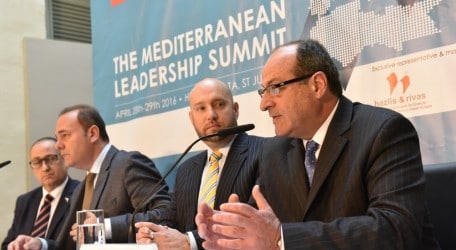 HSBC Malta will help fulfil Malta's vocation as a hub for dialogue by becoming the founding sponsor of the Mediterranean Leadership Summit – a two-day summit organised by The Economist Events from 28-29 April at Hilton Malta.
HSBC Malta Head of Commercial Banking Michel Cordina (first right) said: "In supporting this prestigious event, HSBC Malta is reinforcing one of its objectives – that of putting Malta on the map as a place to do business with. Through such initiatives, we are connecting customers to opportunities and enabling businesses to thrive and economies to prosper – thus helping our customers realise their ambitions. With this in mind, we have launched various initiatives such as the multi-language translation of the 'Why Malta?' video and the launch of the Malta Trade for Growth funds."
HSBC will be bringing over one of its leading global economists, Douglas Lippoldt, as a keynote speaker during the event who will be talking about trade and investment in the Mediterranean region and the potential for growth opportunities and business integration. HSBC Bank Malta's CEO, Andrew Beane, will also address the event during a discussion on financing the future of the Mediterranean.