Essential oils are natural aromatic compounds found in the seeds, bark, stems, roots, flowers and other parts of plants. They can be both beautifully and powerfully fragrant. If you have enjoyed the fragrance of a rose or the smell of freshly cut mint, you have experienced the aromatic qualities.
Essential oils can lift the mood, calm the senses, and elicit powerful emotional responses. Yet the use of essential oils goes well beyond their fragrant appeal. They have been used throughout history in many cultures for their health-promoting properties. Modern trends toward more holistic approaches to self care and growing scientific validation of alternative health practices are driving a rediscovery of the profound health benefits of essential oils.
Many have powerful cleansing properties. Their unique chemical structure allows them to deliver targeted benefits through topical application. Certain oils may be used as dietary aids to promote vitality and well-being.
doTERRA means "Gift of the Earth"
doTERRA® CPTG Certified Pure Therapeutic Grade essential oils are pure, natural, aromatic compounds carefully extracted from plants. They do not contain fillers or artificial ingredients that would dilute their active qualities and are free of contaminants such as pesticides or other chemical residues.
Keeping contaminants out of doTERRA oils, and assuring the presence of the oils' active compounds at the right levels are necessary to guarantee safety and effectiveness. Many oils claim to be the therapeutic grade, and some may be pure but few are subjected to rigorous testing standards for chemical composition. doTERRA CPTG Certified Pure Therapeutic Grade essential oils are cross tested using Mass Spectrometry and Gas Chromatography to ensure both the extract purity and composition potency of each batch.
Using essential oils is intuitively simple and highly satisfying. However, the many oils available with their numberless combinations and wellness applications can be a bit overwhelming to beginners.
doTERRA Essential Oil Classes and AromaTouch Technique Course
"If you have a passion for health and wellness and want to learn more how to use doTERRA essential oils and essential oils wellness products, join our Essential Oil classes," said doTERRA Silver Wellness Advocate Joanna Constantinou, who is returning to Malta to give a series of classes. She will be accompanied by experienced beauty therapist and doTERRA Platinum Wellness Advocate Terpsy Christou.
Essential Oil & Family Wellness Workshop on Monday 16th October and Essential Oil & Women Health Workshop on Wednesday 18 October will be conducted by Joanna Constantinou and Terpsy Christou at DICAL House, Triq San Anton Abbati, Mosta. Both sessions start at 5.30pm till 7.00pm and are free of charge.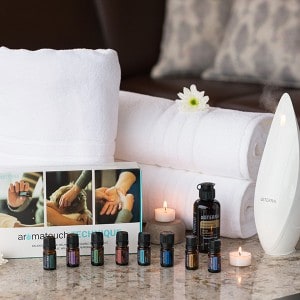 Certification in doTERRA® AromaTouch® Technique
The AromaTouch Technique, developed by Dr David K. Hill, a leading expert on the use of essential oils for medicinal benefit, is a simple step-by-step method of applying therapeutic-grade essential oils topically on the back and feet to produce an overall wellness experience. Held on Sunday 15th October from 10.00am to 5.00pm, the one-day course will be run by certified Mrs Terpsy Christou. Each participant will learn the skills and stages of the AromaTouch Technique. Participants attending the workshop and demonstrating the ability to apply the technique the right way will obtain certification from doTERRA.
Anyone, males and females, can learn the AromaTouch Technique, and will be able to apply the Technique to family members and all those they care for. If a qualified massage therapist, beauty therapist, or physiotherapist attends the class they can include this as one of the treatments they offer to their clients. The workshop will be held at DICAL House, Triq San Anton Abbati, Mosta. The course fee is inclusive of AromaTouch Technique Kit and manual. Participants are kindly asked to bring three big towels, a packed lunch (water will be supplied) and wear comfortable clothes.
Those who wish to book for the AromaTouch Technique or attend the two Essential Oil classes (the latter ones are free of charge) are kindly asked to confirm their attendance (on first come first served basis) by Wednesday 11th October, via email [email protected] or on tel: 9942 7457.
About doTERRA
doTERRA is the world leader in sourcing, testing, manufacturing, and distribution of CPTG® essential oils through a global network of more than 3 million independent direct-sale distributors, known as Wellness Advocates. doTERRA, the Latin derivative meaning "Gift of the Earth," sets the standard for essential oils by having developed the expertise and commitment required to derive these unique oils directly from the best sources in the world. doTERRA Co-Impact Sourcing® provides local growers and distillers fair compensation for their efforts, creating stronger local economies and a healthier, stable supply chain. In addition to a premium line of single-plant extracts and proprietary essential oil blends, the company offers oil-infused personal care and spa products, dietary supplements, and healthy living products for the home. For more information, visit  http://www.doterra.com