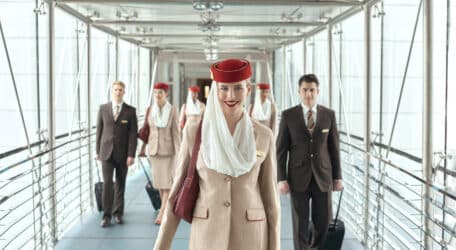 Emirates, the world's largest international airline, is once again looking for additional talent to join its multinational cabin crew team. Emirates is holding a cabin crew recruitment event on Saturday, 11 February 2023 at the Hilton Malta Hotel in Portomaso, St. Julian's. This recruitment event is the first one to be held this year.
The airline is looking for individuals who are passionate about providing simple, personalized, and outstanding hospitality to their passengers while creating lasting memories. The ideal candidate will be a self-assured individual who can take charge of aircraft services, security, and safety procedures. Every member of the Emirates crew will have the opportunity to learn at a high level at the airline's cutting-edge facility in Dubai.
Emirates provides excellent training resources and career opportunities as well as a variety of employee development programs. All Emirates crew members are based in Dubai, a vibrant, metropolitan city. Crew members receive an enticing benefits package that includes a tax-free salary, free company housing, free transportation to and from work, outstanding medical coverage, and special discounts on shopping and leisure activities in Dubai. The expanding global network of Emirates also offers employees numerous travel options across six continents. Emirates employees also receive attractive discounted travel benefits to all destinations served by the airline for themselves in addition to their families and friends.
Applicants can attend the recruitment event with an up-to-date curriculum vitae (CV) in English, as well as a recent photograph. Candidates are advised to pre-register on https://www.emiratesgroupcareers.com/cabin-crew for an easier experience. Those who have not applied online may do so at the Hilton Hotel on the day. More information about the selection process requirements can be found at www.emirates.com/careers. The recruitment event commences at 09:00, and candidates should anticipate being there for the entire day. Shortlisted candidates will be informed of the dates and times for additional assessments and interviews on the same day.
Emirates' worldwide cabin crew team is made up of 160 nationalities, reflecting the airline's customer mix and international operations in six continents and over 130 cities. It operates with a modern fleet of over 200 all-wide-body aircraft and has recently commenced a retrofit programme on all of its aircraft. The airline is the world's largest operator of Boeing 777 and Airbus A380 aircraft.
Emirates has been flying to Malta for the past 25 years and currently offers a daily service to and from Dubai, via Cyprus.