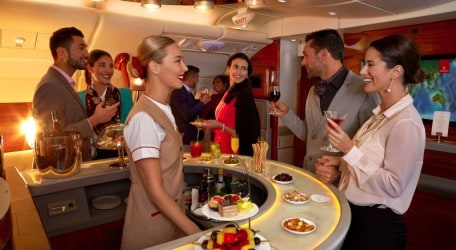 Emirates, the world's largest international airline, connects Dubai to the world and the world through Dubai. Between 1st April and 30 September 2016, Emirates carried 28 million passengers, which represent 9% more passengers during the same period last year.
As a global airline, Emirates is serving 154 destinations in 83 countries from its hub in Dubai, currently operating 248 aircraft. Its fleet of young and advanced aircraft is equipped with industry-leading features and comforts, and supported by a team of talented men and women from over 130 countries, including Malta.
In line with its vision to offer a superior passenger experience and improve environmental performance through modern aircraft fleet, Emirates has now retired the last Airbus A330 and A340 aircraft in its fleet from active service. This makes Emirates the first and only airline in the world to operate a fleet of all Airbus A380 and Boeing 777 aircraft for its passenger flights.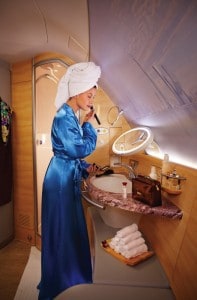 Emirates is currently the largest operator of the Airbus A380 and Boeing 777 aircraft with 86 Airbus A380 and 162 Boeing 777s in its fleet. This year Emirates will have taken delivery of 36 new aircraft – 20 A380s and 16 Boeing, which includes the next generation Boeing 777-300ER aircraft – with upgraded business class seats and other innovative features.
Out of the 234 aircraft worth over USD 112 billion that Emirates has in its order book, 150 will be the new Boeing 777X aircraft that will be delivered starting 2020. The aircraft will feature a range of passenger focused amenities on board including larger windows, higher ceiling, and a wider cabin in addition to being more fuel efficient than previous aircraft.
Emirates has also strengthened its global network by launching passenger services to new destinations: Yinchaun and Zhengzhou in Mainland China, Yangon in Myanmar and Hanoi in Vietnam and earlier this year introduced a circular service from Dubai to Cebu and Clark in the Philippines. A new service to Fort Lauderdale in Florida, USA, will commence on 15 December 2016.
During the past year, Emirates expanded its airline partnerships to offer customers even more flexibility and seamless connections. In the Asia Pacific, Emirates has codeshares to 101 cities beyond its network with Bangkok Airways, Jetstar, Jetstar Asia, Qantas and Malaysia Airlines.
Emirates continues to invest in new product development and service enhancements – both in the air and on the ground. Today's consumers lead digital lifestyles and increasingly demand connectivity on the go. To serve the growing demand from our customers, Emirates invested US$22 million last year to install and operate inflight connectivity systems across its fleet, which is now 70% Wi-Fi enabled.
On a daily basis Emirates flies from Malta to Dubai on a Boeing 777-300 and Boeing 777-300ER aircraft making connecting with exciting destinations, such as in Australia easier than ever before.
The Boeing 777-300 aircraft offers spacious seating for 310 persons in Economy Class, 42 in Business Class and 12 in First Class. In addition to great value, travellers can experience the Emirates difference with gorgeous food prepared by gourmet chefs, and over 2,500 channels of entertainment on its award-winning ice system. As with all Emirates flights, passengers also enjoy generous baggage allowances, 50kg in first Class, 40kg in Business Class and up to 35 kg in Economy Class.
Emirates has come out on top again as the world's most valuable airline brand, according to the 2016 Brand Finance Global 500 report.  For the fifth year running, the airline has steadily risen up in the global ranking of the world's top brands to be placed at #171, 47 places above the next closest airline brand. Emirates continues to support a wide range of events, sports and other initiatives which brings the airline closer to its customers.
Australia – don't just visit, live it
It could be time to make a dream a reality, starting this new year with a trip to Australia. Why Australia? Many Maltese dream that one day they will visit their relatives that they may not have ever met in their lives. So why not materialise your dream and do it.
Australia is an unusual country – from its eclectic cities, swathes of sandy beaches, panoramic landscapes, to rainforests abundant with nature and animal wonder. It is one of those destinations that seem designed with the adventurous traveller in mind. Packed with attractions, experiences and activities to meet every traveller's needs, it is truly an ideal holiday destination.
Emirates flies daily to Sydney, Melbourne, Brisbane, Adelaide and Perth in Australia from its hub in Dubai. Today it operates 77 flights per week to Australia, 49 of these are flown with the A380 aircraft. Australia is the third largest A380 destination for the airline globally.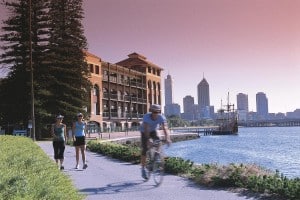 On Emirates' A380s, First Class passengers can look forward to quiet luxury in the comfort of their private suites and enjoy the industry's only Onboard Shower Spa. First Class and Business Class passengers can socialise and sample canapes and cocktails at the popular Onboard Lounge and passengers in all classes can enjoy the gourmet cuisine, its award-winning inflight entertainment, ice, with more than 2,500 channels and free Wi-Fi, which is available on all of Emirates' A380s.
continues on page 3/..
This year, Emirates also celebrated the third anniversary of its codeshare partnership with Qantas, which allows Emirates customers to connect to Qantas' Australian domestic network of more than 50 destinations and 3,900 flights per week, while Qantas customers are able to access more than 45 Emirates destinations in Europe, the Middle East and North Africa.
The biggest draw to Australia is Sydney – home of the iconic Sydney Opera House, Sydney Harbour Bay and plenty of restaurants, bars and nightlife venues to keep travellers entertained. Sydney's points of interest are many, and include quaint historical buildings, green city parks, a slick central business district of soaring towers, and the beautiful natural harbour, flanked by more than 200km of shoreline with nature reserves and public gardens. A 2-hour drive to the Blue Mountains World Heritage Area is another spectacular icon.
Those in search of a more low-key experience tend to head to Melbourne instead. Despite being somewhat smaller than Sydney, Melbourne has plenty of attractions to discover. Starting from the striking Federation Square hosting many art galleries and festivals to South Bank promenade dotted with many restaurants, casinos and cafés. Melbourne is also famous for its many alleys full of hole-in-the-wall cafés, quirky bars, eateries, and boutique shops and sporting events.
Besides these two tourist magnets, there are a number of other places in Australia worthy of tourists' attention. One can visit the west coast to discover destinations such as the less crowded city of Perth, and the Ningaloo Reef, where some parts of the coral are close enough to swim to from the beach.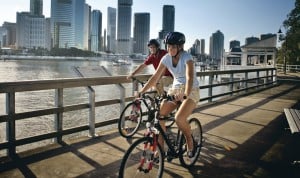 For those looking for a young growing city, Brisbane embraces modernity while its architecture is full of charm. The Brisbane River that winds its way up through the city, features a floating walkway for walking and cycling enthusiasts. Other attractions include South Bank Parklands, home of art galleries and the area abounds with restaurants and cafés. Anyone who loves animals cannot go to Australia and not seeing the Koala bears and kangaroos. The Lone Pine Koala Sanctuary, the largest sanctuary in the world, features more than 130 adorable animals.
Adelaide is also a city with pristine beaches dotted along its coastline. It is known for its many festivals and sporting events. Once you're done exploring the inner city attractions, such as the world-famous Adelaide Oval, the Adelaide Convention Centre and Adelaide Central Market, it's time to hit the beaches. The pretty seaside town of Glenelg is just a tram ride away, and the surfing paradise of Waitpinga is worth a visit too. Overall, Adelaide is a smart city with a glorious climate for a sunny summer holiday filled with good food, trips to the beach, and relaxing walks through picturesque parks.
For further information about Emirates' destination network and bookings kindly visit  www.emirates.com/mt or contact the respective travel agent, or else Emirates Sales Office at Malta International Airport on 25577255