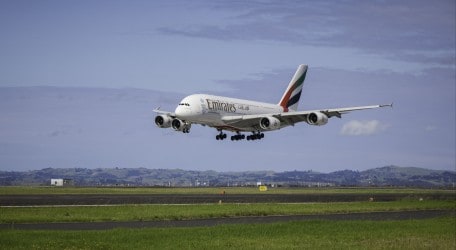 Upgrading the aircraft type to the double-decker A380 on its daily non-stop service connecting Dubai and Auckland was one of the key reasons for a successful first year on the route, the world's longest A380 flight, says Emirates.
Emirates today (1 March) celebrated 12 months on the non-stop route, flown firstly with a 266-seat Boeing 777-200LR and then, since 30 October last year, with the A380, providing up to 491 seats. The upper deck on the A380s features 14 first class suites and 76 business class pods, as well as shower spas up front and an Onboard Lounge at the rear.
The A380's introduction on the Dubai-Auckland non-stop flight last October after only eight months' of Boeing 777 operation at very high load factors, was a very successful move for Emirates, especially as it can now offer A380 service all the way between a number of destinations in Europe and New Zealand with only one stop, at the airline's Dubai hub, and a simple six- to seven-hour journey beyond.
In addition, from a customer's point of view Emirates has been able to offer a total consistency of product on its New Zealand routes, with A380s also on its three daily services to Auckland and daily flight to Christchurch via Australia from Dubai and beyond.
The average flight time northbound has been 16 hours 57 minutes and southbound the duration (usually with tail winds) has been 15 hours 38 minutes; somewhat better than scheduled flight times.
Over the past year, more than 210,000 meals have been provided in-flight on the non-stop route.
Emirates now has 93 Airbus A380s in its fleet and a further 49 on order.
Emirates has been strongly supporting New Zealand's tourism industry, in 2016 carrying more than 1.1 million passengers to and from New Zealand in a year in which the nation's export earnings from tourism reached a record NZ$10.1 billion (US$7.26 billion).
All of Emirates' services to New Zealand offer First Class private suites, lie-flat seats in Business Class and comfortable Economy Class seating. Several courses of gourmet foods and award-winning wines are complimentary on all flights to and from New Zealand. Free wifi is also available in all three cabins, as is Emirates' famous ice inflight information, communication and entertainment system, offering more than 2500 channels in widescreen digital format. Emirates has generous free baggage allowances – up to 35kg for Economy Class passengers, 40kg for Business Class and 50kg for First Class.
Emirates operates daily scheduled flights between Malta and Dubai via Larnaca, Cyprus, on a Boeing 777-300 aircraft.