Emirates unveiled plans to re-route its daily service between Dubai and Malta via Larnaca, Cyprus, from 1st February 2017. This means that the current five weekly flights with routing Dubai/Tunis/Malta/Dubai will be changed to Dubai/Larnaca/Malta/Larnaca/Dubai, the same as the current flight operating every Monday and Wednesday. The Malta route allows travellers to book tickets between Malta and Cyprus.
Travellers from Malta can once again enjoy daily access to Larnaca, as Cyprus is only two hours away. The daily Dubai-Larnaca-Malta service will be operated by a state-of-the-art Boeing 777-300ER aircraft in a three-class configuration, with eight Private Suites in First Class, 42 lie flat seats in Business Class, and 310 spacious seats in Economy Class.
Customers on Emirates' flights enjoy the famed hospitality of its multi-national Cabin Crew, including Maltese, as well as gourmet cuisine and Emirates' award-winning ice entertainment system. With more than 2,500 channels of on-demand entertainment, from movies, television programmes, games, audio books, and music from around the world, ice has been named the world's best inflight entertainment system by Skytrax for 12 consecutive years. As with all Emirates flights, passengers also enjoy generous baggage allowances: 50 kilos in First Class, 40 kilos in Business Class, and up to 35 kilos in Economy Class.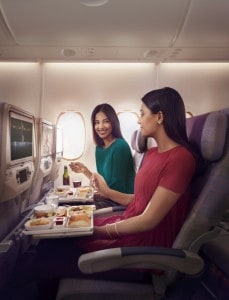 Starting 1 February 2017, EK 109 will depart Dubai at 0750hrs, arriving in Larnaca at 1020hrs. It will then depart Larnaca at 1150hrs, arriving in Malta at 1325hrs. The return flight, EK 110, will leave Malta at 1455hrs, arriving in Larnaca at 1815hrs. It will then depart Larnaca at 1930hrs, and land in Dubai at 0125hrs the next day. The timings are ideal for onward connections from Dubai to Australia, the Middle East, Asia, Africa and North and South America.
Businesses and traders will also benefit from the aircraft's belly-hold to carry cargo on the Boeing 777-300ER aircraft by Emirates SkyCargo offering 23 tonnes of capacity per flight.
Further information and flight schedules are available from: www.emirates.com/mt