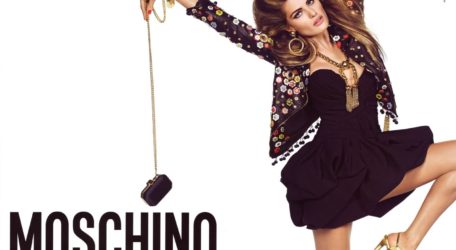 Malta's leading fashion company DIZZ Group, has added more top brands to its already remarkable list of inspirational labels. Italy's leading luxury fashion designers Moschino, Versus by Versace and Aquazzura will join the greatly successful array of available lines at new flagship store Lusso in St. Julians. The recently opened Lusso has proven immensely popular with Maltese fashionistas and has also attracted many foreigners residing locally or tourists visiting our islands. 
Group CEO Diane Izzo expressed her satisfaction that more international brands have chosen her company and the Lusso outlet to promote their products amongst Maltese clients. "Our commitment at the DIZZ Group remains constant; we seek to enrich the availability in order to provide satisfaction to those shopping at Lusso. Undoubtedly, the new brand additions to our portfolio will meet the varied demands of our wonderful clients." commented Diane.
Moschino specializes in leather accessories, shoes, luggage and fragrances. The brand was founded in 1983 by Franco Moschino. Moschino occupies an important position on the international fashion stage, complete with its own history, consistency and continuity. The Moschino, Boutique Moschino and Love Moschino, creations make their mark by expressing its creativity that makes irony and elegance its strength through the reinterpretation of the classics. Based on the concept of offering an alternative to the traditional fashion system, Moschino reveals a creativity that is more interested in transforming what exists than being tempted by the ephemeral. That's why Moschino creates its own fashion trends rather than follow the system. Its creativity is expressed through a new combination of stylistic elements that conveys its vision of a disenchanted future. That vision has often been confused with irony and self-irony only because it is not self-referential. 
Moschino style, unique, unexpected and original, has always been loved by international stars of pop music-rock, which they chose and still choose the brand: Miley Cyrus, Rihanna, Katy Perry, Lady Gaga, Cheryl Cole, Kylie Minogue, Britney Spears, in addition to the International actresses like Nicole Kidman, Dita Von Teese, Jessica Alba, Zooey Deschanel, Uma Thurman, Keira Knightley.
"Moschino gained worldwide recognition when the Italian house brand was asked to design costumes for the opening ceremony of the 2006 Winter Olympic Games in Turin. We are proud to collaborate with this brand as it represents high fashion. It certainly stands out from other luxury brands and that is very easy to notice. Moschino's exclusive style always surprises me with its humor, unconventional and enchanted color pallet, and all this mixed with a provocative attitude. It truly embodies all that is meant to be fashionable and stylish," said Diane.
Versus by Versace is yet another popular Italian luxury fashion brand founded by Gianni Versace in 1978. The main collection comprises upmarket Italian-made ready-to-wear and leather accessories. Versace is branded by the signature medusa motif and has always epitomized over-the-top sexiness and glamour. The company's reins were taken over by Gianni's sister, Donatella, after his murder in Miami in 1997. Donatella oversees every collection under Gianni Versace umbrella: ready-to-wear, menswear, and the lower-priced offshoot lines. 
"Versus by Versace is a popular brand in Malta and we are proud to start cooperating with such a prestigious company through their inclusion within Lusso. Unquestionably, Versus by Versace is the Italian fashion house experiencing continuous growth and offers an assortment of high-end, often handmade apparel, accessories, handbags and shoes for men and women. Their selection of men's and women's ready-to-wear is anything but ordinary." said Diane.
Aquazzura is another footwear brand that joins DIZZ Group. It was founded in 2011 by Edgardo Osorio who was born in Colombia and raised between Miami and London. Edgardo is a remarkable man, an alchemist of shoes that knows exactly how to create magic models. The perfect choice of leather and materials, the jump to the exact degree, sensual but elegant and extremely comfortable. Striking the perfect balance between modern designs and impeccable craftsmanship, Aquazzura's elegant, timeless styles for women of all ages are crafted with attention to detail and a focus on wear ability. The brand launched Aquazzura Mini, the line for girls in June 2016. In the past six years, the brand has become available in 58 countries within the top retailers of the world with boutiques in Florence, London, New York, Miami, Las Vegas, Paris, Moscow and Costa Mesa.
"Once you wear a pair of Aquazzura, you will really understand the unique sense of absolute comfort. Aquazzura shoes are a splendid mix of luxury, sensuality and comfort. We are pleased to announce that this footwear brand is now available in Malta. Aquazzura shoes can be seen on trendsetters, Hollywood stars, European royals and fashion insiders around the globe. No doubt, Osorio is continuously creating fashionable and stylish, yet wearable footwear for the modern woman earning him many prestigious awards. The saying goes that good shoes take you to good places and I'm certain that this brand will be taking Maltese fashionistas to the best places, wearing the latest collections from Aquazzura." said Diane.