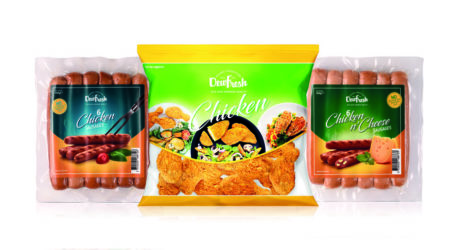 Dewfresh, a leading Maltese brand of processed meat products, has launched its first ever chicken-based line of products. The Dewfresh chicken range comprises of a wide range of chicken cuts as well as two different types of chicken sausages.
Dewfresh has been around since 1982, however the parent company, J&C Pisani Ltd, has been established since 1884 marking over 130 years of experience in the meat trade. Since then, Dewfresh has become synonymous with quality meat products and has traditionally focused on pork and beef-based products.
The addition of a chicken product line is a response to the increased demand in chicken-based products and in prepacked meat cuts. Similar to the other sausage products, the Dewfresh chicken sausage is made from meat which is not mechanically separated, resulting in a higher quality sausage. All chicken meat used for this range of products is sourced solely from EU countries.
All Dewfresh chicken products are sold through the family's import and distribution company, J&C Pisani Ltd. and are already available in retail food stores.
To view the whole range of chicken products one can visit www.dewfreshproducts.com