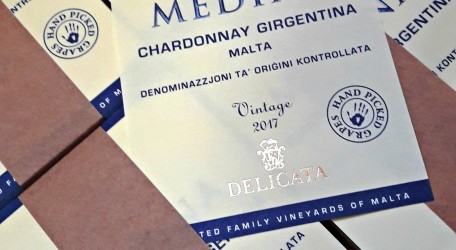 The latest 2017 vintage of the Medina range of award-winning, boutique Malta-grown wines by the Delicata winery has been bottled for distribution on the domestic market in Malta and Gozo.
Medina is a collection of ten unoaked, fruity wines made from hand-picked grapes. The range consists of four blends and six mono-varietals.
The blends comprise the pair of two white wines, one which is made from Chardonnay with Malta's native Girgentina and another one from Vermentino with Zibibbo, a dry rosé blend of Grenache and Cabernet Sauvignon, and a vibrant red wine of the three varieties Syrah, Grenache and Carignan.
The six single varietals are a 100 percent Chardonnay, Sauvignon Blanc, Syrah, Cabernet Franc, Merlot and Sangiovese, all harvested from selected family-run vineyards.
Whilst the white and rosé wines are already available for purchase, customers will have to wait for their favourite Medina reds until after 1st March since the law doesn't allow them to be released sooner.
A selection of Medina wines will be served at a student-run Anfora food and wine pairing dinner at The Pembroke Suite of the Institute of Tourism Studies on Thursday, 1st March.
Delicata is also hosting two themed wine tasting sessions at their winery's tasting vaults, one conducted in Maltese on 22nd February and another one in English on 8th March. For bookings, visit www.delicata.com.