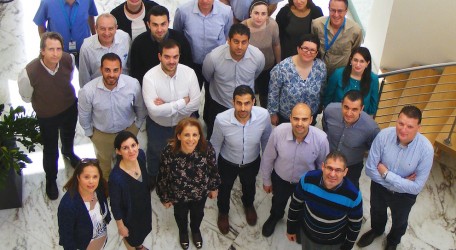 Over 80 senior and middle managers of four Mizzi Organisation companies completed the FranklinCovey 7 Habits of Highly Effective People™ Signature 4.0 training course as part of a major culture change implementation programme.
The trained managers were from The General Soft Drinks Co. Ltd, Arkadia Marketing Ltd, The Waterfront Hotel and IELS (Institute of English Language Studies), which is jointly owned by Mizzi Organisation and FTI Group Gmbh. By the end of the training course, FranklinCovey (Malta) delivered 2,050 hours of training over a period of two weeks. Nine trainers also gained certification as fully licensed facilitators, with the intention to cascade the programme to all employees later in the year.
In her introductory address at the beginning of each of the four three-day programmes, Maria Micallef, Chief Operating Officer of the Mizzi Companies and Executive Director at IELS, said she was confident that the participating staff's achieved skills would help them both at work and in their personal lives.
Quoting the results of a survey in the US, she said only 14% of executives accomplish all they believe they could; only 17% prepare a plan for the day; and only 50% feel satisfied and fulfilled with their work. She urged those who attended to share insights among themselves since this was the first training initiative to be conducted by the four companies jointly.
Shirley Grixti, Chief HR Manager, stressed the benefit of the 7 Habits of Highly Effective People™ programme since it places the individual at the core of the organisation, giving each one the tools to motivate and empower themselves and others. It is also a powerful tool to drive cultural change and increase employee engagement.
Malcolm J. Naudi, Managing Partner of FranklinCovey (Malta) Ltd, who co-facilitated the programmes with Jimmy Naudi, said the 7 Habits programme had given the executives at the four companies a shared language, aligning them behind a common mission and vision.
"With the training of in-house facilitators in all the four companies, management is showing its commitment to drive this culture change throughout all levels of these companies," he said.