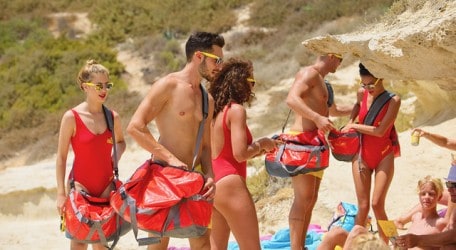 Throughout the peak summer weeks, award-winning beer Cisk Lager is taking to the beaches as part of a responsible drinking campaign aimed at making consumers better aware of how to enjoy beer in an informed and responsible way.
BeerWatch, Your Lifeguards for Responsible Fun, is a team of lifeguards who will be sharing useful tips with Cisk consumers spotted at Malta's popular beaches mainly through the distribution of a leaflet which lists facts related to beers and responsible drinking. The leaflet also includes a coupon for a free bottle of water and Cisk-branded sunglasses are given out to everyone who redeems their coupon.
In addition, as an extension to this initiative, a Cisk Beer Hut will be set up at the Farsons Beer Festival, which runs from 28th July to 6th August at Ta' Qali National Park, where consumers also get informed with key facts about responsible drinking and also be in with a chance to win a BBQ every day throughout the 10-day festival.
Cisk has this year teamed up with eCabs who will also be at the Farsons Beer Festival and will be offering €10 off their taxi bill to anyone who presents the BeerWatch flyer distributed at the beach. Terms and conditions apply.
Mr Karl Bondin, Beers Brand Manager at Simonds Farsons Cisk plc, explains "Through this initiative, we are encouraging our consumers to be beer aware. BeerWatch, Your Lifeguards for Responsible Fun, is an innovative campaign aimed at educating beer drinkers and enabling responsible drinking. We are very excited about the positive feedback we have received so far and look forward to engaging with as many people as possible throughout this campaign."
This initiative is supported and endorsed by the Malta Sense Group.