Pictured above: Westin Associates together with their children at the Family Kids Club
The Westin Dragonara Resort has just been awarded a global award for its Westin Family programme by Starwood Hotels & Resorts. In a competition, open to all Westin Hotels, teams were asked to submit their most recent family initiatives.
As part of the newly launched Westin Family programme, associates and hotel guests at The Westin Dragonara are invited to several kids' activities aimed at promoting a sense of well-being amongst children through exploration and discovery.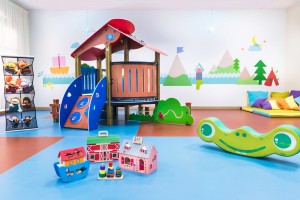 The Kids Club now enjoys a renovated and redesigned physical space whereby the team passionately engages with young ones in a varied schedule that tie well with the Westin brand. These are hands on, interactive activities which inspire creativity and wonder between children and their families.
The Westin Family Kids Club is available for children staying at the Resort between 3 and 12 years as well as for kids parties and events. More information can be found at: www.westinmalta.com/ family-kids-club-malta