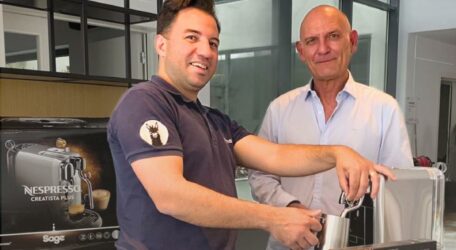 Dar Bjorn in Zebbug was the recipient earlier this month of two Nespresso Creatista machines, along with coffee bar accessories and a selection of premium coffees, kindly donated by Dizz Group.
Dar Bjorn aims to improve the quality of life of people with ALS, MS and other neurological conditions through 24/7 nursing care and specialised treatment. Among the services offered are physiotherapy, occupational therapy, speech language pathology, psychological services, spiritual services, general medicine, nutritional services, podology and neurological consultancy.
Residents at DAR Bjorn find the latest in medical technological advancements and medical equipment. All is provided free of charge thanks to the continuous work of the ALS Malta Foundation. The Government of Malta helps with the financing of the day-to-day care.
DAR Bjorn is equipped with an intelligent smart home system and an eye gaze centralised controller. Live streaming entertainment and smart audio systems are also available inside each room.
Nespresso's donation of two Creatista machines and accompanying coffee bar accessories is intended to create a warm and inviting space for residents and visitors to enjoy moments of indulgence and relaxation. These cutting-edge machines will allow individuals to prepare a variety of high-quality coffee beverages right within the comforts of the home.
Nespresso believes in the power of exceptional coffee experiences to bring joy and uplift spirits, and are delighted to contribute to the residents' well-being at DAR Bjorn. Nespresso is committed to making a positive impact in the communities it serves, and this donation to DAR Bjorn is just one of the many ways the company strives to support those in need. Donations can be made to DAR Bjorn at https://www.darbjorn.com/donate/.